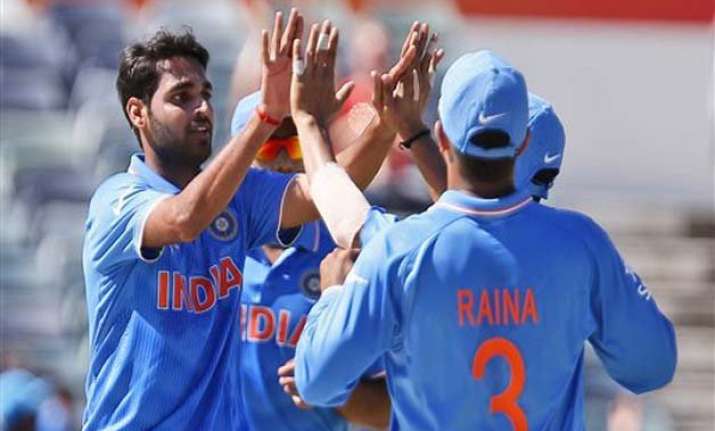 Perth: Scoreboard of India vs UAE Group B, 21st Match of the ICC World Cup 2015 played at W.A.C.A ground here Saturday.
Toss: UAE won the toss and elected to bat
India bowlers delivered a dominating performance to skittle out the United Arab Emirates (UAE) for a paltry 102 runs off 31.3 overs in a World Cup Pool B match at the WACA here Saturday.
Off-spinner Ravichandran Ashwin was the pick of the bowlers, notching his first four-wicket haul in One-Day Internationals (ODI) for 25 runs from his 10 overs -- which also included a maiden.
Pacer Umesh Yadav (2/15) and spinner Ravindra Jadeja (2/23) clinched two wickets each as the minnows were bowled out for the lowest total of this World Cup so far.
India achieved their third consecutive victory of the cricket World Cup when they comprehensively beat the United Arab Emirates (UAE) by nine wickets in a Pool B encounter at the WACA here Saturday.
UAE innings: 102 all out in 31.3 overs
| | | |
| --- | --- | --- |
|  Amjad Ali |  c Dhoni b Kumar |  4 |
|  Andri Berenger |  c Dhoni b Yadav |  4 |
|  Krishna Chandran |  c Raina b Ashwin |  4 |
|  Khurram Khan |  c Raina b Ashwin |  14 |
|  Swapnil Patil |  c Dhawan b Ashwin |  7 |
|  Shaiman Anwar |  b Yadav |  35 |
|  Rohan Mustafa |  lbw b Mohit |  2 |
|  Amjad Javed |  c Raina b Javed |  2 |
|  Mohammad Naveed |  b Ashwin |  6 |
|  Mohammad Tauqir |  b Jadeja |  1 |
|  Manjula Guruge |  not out |  10* |
|  Extras |  (lb 4, wd 9) |  13 |
|  Total |  all out |  102 |
|  Overs |  innings break |  31.3 |
|  Fall of wickets                                   |  1-7 (Berenger, 1.4 ov), 2-13 (Amjad Ali, 4.6 ov), 3-28 (Krishna Chandran, 10.2 ov), 4-41 (Patil, 14.5 ov), 5-44 (Khurram Khan, 16.4 ov), 6-52 (Rohan Mustafa, 19.5 ov), 7-61 (Amjad Javed, 21.1 ov), 8-68 (Mohammad Naveed, 22.3 ov), 9-71 (Mohammad Tauqir, 23.6 ov), 10-102 (Anwar, 31.3 ov) |                   |
Bowling
| | | | | |
| --- | --- | --- | --- | --- |
|  Bowler |  Overs |  Maidens |  Runs |  Wickets |
|  Bhuvneshwar Kumar |  5 |  0 |  19 |  1 |
|  Umesh Yadav |  6.3 |  2 |  15 |  2 |
|  Ravichandran Ashwin |  10 |  1 |  25 |  4 |
|  Mohit Sharma |  5 |  1 |  16 |  1 |
|  Ravindra Jadeja |  5 |  0 |  23 |  2 |
India inning: 104/1 in 18.5 overs
Bowling
| | | | | |
| --- | --- | --- | --- | --- |
| Bowler | Over | Maiden | Run | wckt |
| Mohammad Naveed | 5 | 0 | 35 | 1 |
| AM Guruge | 6 | 1 | 19 | 0 |
| Amjad Javed | 2 | 0 | 12 | 0 |
| Krishna Chandran | 3 | 0 | 17 | 0 |
| Mohammad Tauqir | 2.5 | 0 | 21 | 0 |