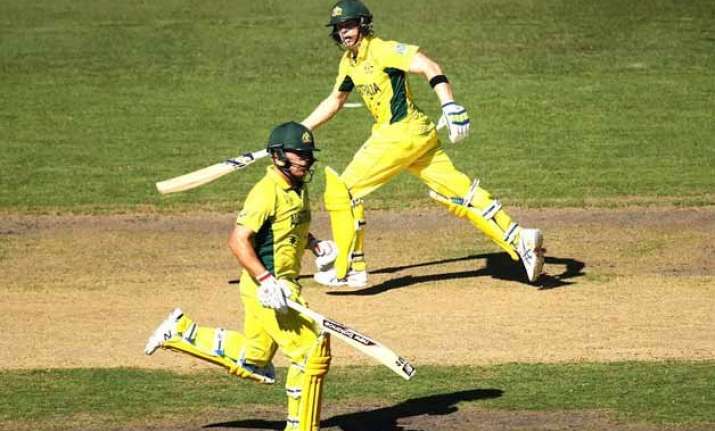 Sydney: Scoreboard of second semi-final between Australia and India in the ICC World Cup 2015 played at Sydney Cricket Ground here Thursday.
Steven Smith's brilliant century propped up Australia before Indian bowlers staged a comeback of sorts but the hosts still managed to post a commanding 328 for seven.
This was the highest total by any team against India in this edition of the mega-event as the Australian batsmen dominated proceedings for the major part to become the first team to post a 300-plus score in a World Cup semifinal.
This was also the only time that Indian bowlers failed to take all 10 wickets of the opposition team and the rivals managed to score a 300 plus score after winning the toss.
Smith batted like a man possessed as the Indian attack looked pedestrian for the first time in front of the local boy whose 105 came off only 93 balls with 11 boundaries and two sixes.
Mitchell Johnson played a superb little cameo scoring 27 off 9 balls (4x4, 1x6) that helped the hosts cross the 320-run mark.
It was the first time that Indian pace attack was put to sword as the trio of Umesh Yadav (4/72 in 9 overs), Mohammed Shami (0/68 in 10 overs) and Mohit Sharma (2/75) were hammered into submission due to some poor planning as well as execution.
Australia innings: 328/7 in 50 overs
| | | |
| --- | --- | --- |
|  Aaron Finch |  c Dhawan b Yadav |  81 |
|  David Warner |  c Kohli b Yadav |  12 |
|  Steven Smith |  c Rohit b Yadav |  105 |
|  Glenn Maxwell |  c Rahane b Ashwin |  23 |
|  Shane Watson |  c Rahane b Mohit |  28 |
|  Michael Clarke |  c Rohit b Mohit |  10 |
|  James Faulkner |  b Yadav |  21 |
|  Brad Haddin |  not out |  7* |
|  Mitchell Johnson |  not out |  27* |
|  Extras |  (1 b, lb 7, wd 6) |  14 |
|  Total |  for 7 wickets |  328 |
|  Overs |  innings break |  50 |
|  Fall of wickets                            |  1-15 (Warner, 3.1 ov), 2-197 (Smith, 34.1 ov), 3-232 (Maxwell, 37.3 ov), 4-233 (Finch, 38.2 ov), 5-248 (Clarke, 42.1 ov), 6-284 (Faulkner, 46.3 ov), 7-298 (Watson, 47.5 ov) |                       |
Did not bat: Mitchell Starc, Josh Hazlewood
Bowling
| | | | | |
| --- | --- | --- | --- | --- |
|  Bowler |  Overs |  Maidens |  Runs |  Wickets |
|  Mohammed Shami |  10 |  0 |  68 |  0 |
|  Umesh Yadav |  9 |  0 |  72 |  4 |
|  Mohit Sharma |  10 |  0 |  75 |  2 |
|  Virat Kohli |  1 |  0 |  7 |  0 |
|  Ravindra Jadeja |  10 |  0 |  56 |  0 |
|  Ravichandran Ashwin |  10 |  0 |  42 |  1 |
India innings: 233/10 in 46.5 overs
| | | |
| --- | --- | --- |
| R Sharma | b Johnson | 34 |
| S Dhawan       | c Maxwell b Hazlewood | 45 |
| V Kohli    | c Haddin b Johnson | 1 |
| A Rahane    | c Haddin b Starc | 44 |
| S Raina   | c Haddin b Faulkner  | 7 |
| MS Dhoni     | run out (Maxwell) | 65 |
| R Jadeja        | run out (Smith) | 16 |
| R Ashwin    | b Faulkner     | 5 |
| M Shami    | not out     | 1 |
| M Sharma    | b Faulkner     | 0 |
| U Yadav    | b Starc     | 0    |
| Extras     |  (lb 8, w 5, nb 2)   | 15 |
| Total    | (all out; 46.5 overs) | 233 |
| Fall of Wickets | Fall of wickets 1-76 (Dhawan, 12.5 ov), 2-78 (Kohli, 15.3 ov), 3-91 (RG Sharma, 17.6 ov), 4-108 (Raina, 22.6 ov), 5-178 (Rahane, 36.2 ov), 6-208 (Jadeja, 41.5 ov), 7-231 (Dhoni, 44.3 ov), 8-232 (Ashwin, 45.4 ov), 9-232 (MM Sharma, 45.5 ov), 10-233 (Yadav, 46.5 ov) |   |
Bowling
| | | | | |
| --- | --- | --- | --- | --- |
| Bowler     | Overs     | Maidens     | Runs     | Wickets |
| MA Starc    | 8.5     | 0     | 28 | 2 |
| JR Hazlewood | 10 | 1 | 41 | 1 |
| MG Johnson    | 10 | 0 | 50 | 2 |
| JP Faulkner | 9 | 1 | 59 | 3 |
| GJ Maxwell | 5 | 0 | 18 | 0 |
| SR Watson | 4 | 0 | 29 | 0 |