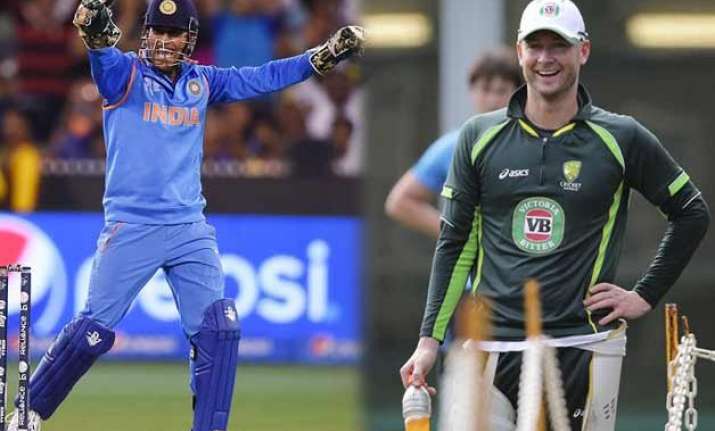 New Delhi: In yet another crucial encounter, India will face the co-hosts Australia on their home ground at Sydney Cricket Ground (SCG) in the second semifinal of World Cup 2015 on March
After a horrendous tour Down Under, it will be a big challenge for Team India to counter the Aussie attack.
The semifinal might be a day after, but the Australians have already started their mind games. Be it Steven Smith, Michael Clarke or Josh Hazlewood, everybody raised questions and asked them to remember their shocking tour performances last summer.
Pacer Mitchell Johnson even said that he will continue sledging against India. Indian pacers have taken 43 wickets so far and out of which 25 were off short balls. Steven Smith has now asked the Indian bowlers to bowl short at their risk only.
Meanwhile Indian batsman Virat Kohli said that this is the best chance to beat Australia. On Thursday, the top two teams in ICC rankings will meet in Sydney for Melbourne date with New Zealand.
India have beaten Australia just once in 35 years in a one-day international at the Sydney Cricket Ground when a Sachin Tendulkar century helped them win the first of the three-match tri-series final in 2008.
It's more or less a final before the final in which both teams will have to be at their best to move to the final stage.
The battle lines were drawn in November last year but after four high-voltage Tests and a low-key tri-series, India had nothing to show for their efforts. But it's a different story now, of course. With seven consecutive wins, loads of runs, 70 wickets and a place in the last four, India are on a different plane.
We look out for some key clashes in the upcoming second semifinal of the quadrennial event:
1) Rohit Sharma vs Mitchell Starc
It will be the battle between opening batsman and the opening bowler. Rohit Sharma has been inconsistent in this World Cup so far. He has not been able to play any big innings against a higher ranked team. But he came back with a mature 137 runs knock against Bangladesh in second quarterfinal that saw India qualify for the semis.
Not to forget his 138 run innings against Australia in the tri-series down under earlier this year. Though Starc managed to dismiss Rohit but not before his 138.
On the other hand Mitchell Starc is so far the second highest wicket taker in the tournament with 18 wickets. He is the only bowler to have the average under 10 and the most reasonable economy among all the leading bowlers.
He bowled a magical spell of 10 overs for 43 runs and 6 wickets against India in the second match of tri-series and outplayed the Indian batting line up.
Starc has the habit of rattling the top order of any opponent and put them under pressure. The left-armer Starc generates plenty of pace and bounce, and also possesses the ability to bring the ball back into the right-hander.
This will be the battle of two confident stars which will set the tone for the semis.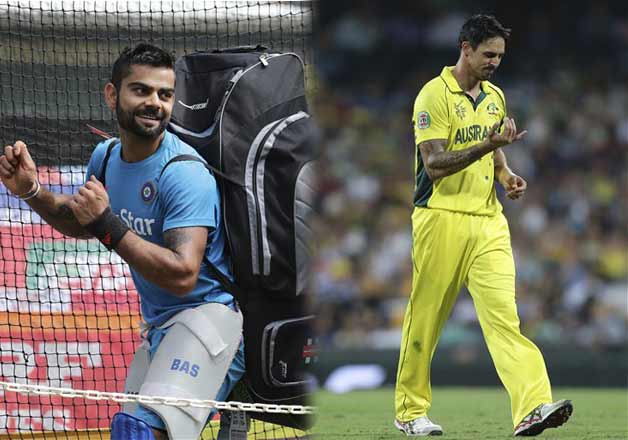 2) Virat Kohli vs Mitchell Johnson
The epic battle which started during the test series down under is expected to be still in high temperatures.
After Johnson appealed to continue sledging Indian players during the semifinal, it will be very interesting to see how the two spearheads tackle each other.
Mitchell Johnson has played a supporting role to Mitchell Starc in the tournament. He has not been much impressive as he is known for. He does not even feature in top 15 leading wicket takers. With 10 wickets in 6 matches at an economy of 5.52, he is the costliest pacer among all from both teams.
On the other hand Virat Kohli has not scored a fifty after his 107 against Pakistan in World Cup opener. He is due for some big runs and the big semis stage beckons.
Also read: Virat's lady love Anushka Sharma reaches Syndey to cheer Team India
Virat Kohli has said there couldn't be a more perfect time to break India's torrid run of defeats against Australia.
In a big clash like the semifinals, expect both the players to bring out their 'A' game.