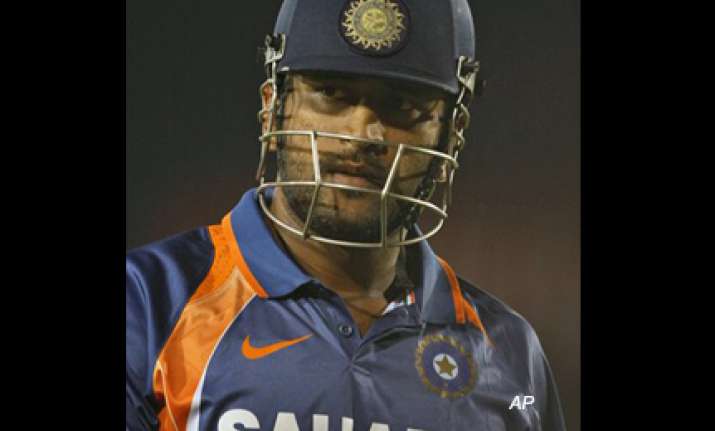 Dambulla (Sri Lanka): Injury-hit Indian bowlers are in desperate need of timely breaks, said skipper Mahendra Singh Dhoni on Sunday , insisting that the workload on them is "a bit too much" compared to the batsmen. India's bowling has been been badly hit by injuries in the ongoing tour of Sri Lanka.  
The team is without pace spearhead Zaheer Khan, who is nursing a shoulder injury, while
Ishant Sharma
and Ashish Nehra are recuperating from niggles and are doubtful for tomorrow's ODI tri-series match against Sri Lanka. Dhoni advocated a more frequent rotational plan for the bowlers given the workload on them.  
"Bowling department needs a bit more rotation compared to batting department. You have to see where exactly the bowler or the batsman is. Whether he plays a few more games or if he is given rest in the next few games. What will be the impact," Dhoni said at the pre-match press conference.  
"So, accordingly you decide if rest is needed. Then you give rest to the players so that they do not get injured and get some time to recover from niggles. That is the criteria when it comes to giving rest to someone. It has worked for us so far and I am just hoping that it will work for us in the near future," he said.
 "The workload on the bowler can be too much if you see specially those playing both the Test matches and the ODIs. Because the workload on them is a bit too much, that really challenges the limit. For batsmen, they don't have to put in the same amount of effort compared to a bowler," he added. Asked whether the burden needs to reduced at the domestic level, Dhoni said it is upto the individual player to decide on that.  
"I think it is upto the individuals to do their best in whatever opportunities they get. Whether it is domestic cricket like the Duleep Trophy, the Challengers and the Deodhar Trophy.  
"It is better off personally if you can rest someone and prevent him from getting injured. You know that actually does not hamper his form. The kind of momentum that one gets because of good performances can just continue and he will always be in a positive frame of mind," he said.  
It has been a frustrating trip to Sri Lanka for the Indians so far. They laboured to a 1-1 draw in the Test series and lost by 200 runs to New Zealand in the opening match of the ODI tri-series but Dhoni said the dressing room is still lively.  
"We had some time off. So we tried to make the most of it. We had a few days off. I don't think the spirit has been affected that much. Of course, it was a disappointing loss. So hopefully we will turn up on the field well prepared for the challenges," he said. Dhoni reiterated his displeasure over the practice wickets at the stadium.  
"As far as the wicket is concerned, the players who went for practice during the last three days were not really happy with the kind of wicket that was provided. So, we are just hoping that the weather clears today and we get some time to practice. And hopefully the wickets will be good," he said. Dhoni said off-colour all-rounder
Ravindra Jadeja
could be replaced with a specialist batsman.
"One thing that Jadeja was really doing well for us was he was bowling really well. In fact at times it seemed that we are playing with five specialist bowlers. So, if he is not doing that well with the ball definitely we can offer to have one more specialist batsmen," he said.
"If that number seven slot is not bowling that well then it is always better to have a specialist batsman but still I think Jadeja can do the job for us. I am just hoping he comes back to form and it is always good to have five bowlers considering the majority of his performances that he has done with the ball," he added. Dhoni said given the tight schedule it was vital to keep off cricket during the short breaks.  
"It is important to switch on and switch off," he said. The Indians were bowled out for an embarrassing 88 in the tri-series opener and Dhoni hoped the young batsmen in the side have learnt their lesson as far as handling bounce is concerned.  
"I think the youngsters who went for practice would have certainly got a bit of seam bowling because the wickets were very damp and there was lush green grass on the wicket. They must have seen that. I think you know whoever is part of the national side is talented enough to deal with any kind of condition or situation. I think it is just the mental side that we need to train a bit," he said.  
Dhoni said back-up pacer Munaf Patel, who has been called in as cover for Ishant Sharma, could get a game if he does well in the nets.  
"It is better to have a back up bowler. That is one of the reason why Munaf is here .But we treat him as a part of the side not a back up bowler. He also qualifies if he does well in the net sessions you know," he said. PTI