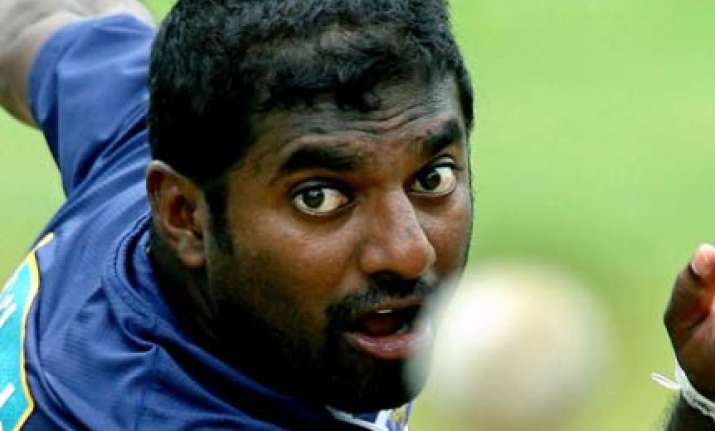 Chennai: Legendary spinner Muthaiah Muralitharan on Monday  made it clear he would hang up his boots only by 2013-14 as he felt fit enough to continue and has offers from English counties and would also like to play IPL.  
"I think my body is good enough to play cricket for another three years. I would like to play IPL (Indian Premier League) and some county cricket in England.I have received some offers but can t disclose them at this moment," he said during a felicitation function got up by his IPL team, Chennai Super Super Kings, here today on his taking a record 800 wickets.  
In an interactive session with the media later, Muralitharan said he would play for another three seasons and that he had also agreed to Anil Kumble s offer to join the Indian leggie in a venture. However, he did not disclose the details of his venture with Kumble and was also not specific on his representing Sri Lanka in the 2011 World Cup.  
"It is still too early. I want to see how I play in the Champions League and then decide on the World Cup,  the 38-year-old Muralitharan said.  
Sanjay Manjrekar, who anchored the function, requested scribes before opening the floor for a question answer session not to pose questions on the alleged match fixing in Pakistan's ongoing England tour.  
However, Muralitharan did answer a question, saying it is for the Pakistan Board and the English Cricket Board to deal with the situation and decide. "These are only allegations and I wouldn t like to comment on these matters,"  he said. Muralitharan said off spinner Harbhajan Singh has the best chance of reaching the 800 figure mark, but that he could not predict whether he would do so.  
Harbhajan is only 29 and statistically it is possible for him to reach 800. But it is up to the bowler and I can t predict anything. You should have the hunger to achieve anything,  he said. Sanjay Manjrekar and former india captain S Venkataraghavan hosted a group discussion as part of the function.  
Tamil Nadu cricketers of Chennai Super Kings - Subramaniam Badrinath, Lakshmipathy Balaji, Ravichandran Ashwin, Anirudha Srikkanth and Shadab Jakati and operations director V B Chandrasekar recalled their experiences with their famous colleague in IPL events.  
Venkatraghavan, part of the famous Indian spin quartet of yesteryears, showered praise on Muralitharan and discussed the finer points of spin bowling. Venkatraghavan presented Muralitharan a Super Kings team shirt with the number 800 printed on the back and the Sri Lankan star immediately wore it on the stage. PTI