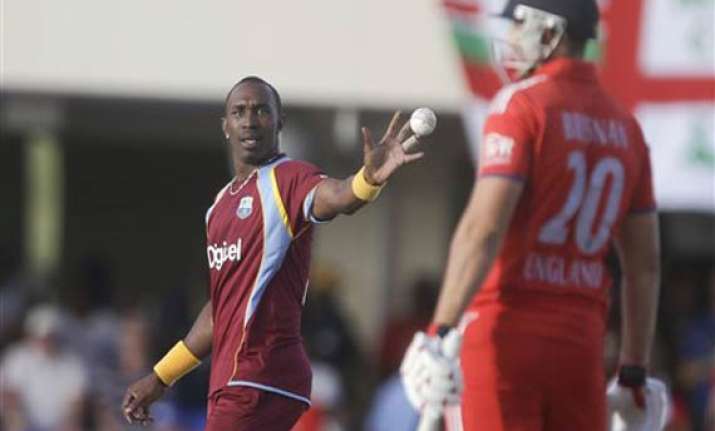 ST. JOHN'S, ANTIGUA
West Indies v England One-Day Series
 Final Scoreboard
  West Indies defeats England by 15 runs in first one-dayer
   Final scoreboard in the first one-day cricket international between the West Indies and England at the Sir Vivian Richards Stadium at North Sound:
   West Indies Innings(equals)
   Dwayne Smith c wk Buttler b Tredwell 24
   Kieran Powell c Jordan b Root 5
   Kirk Edwards b Bresnan 10
   Darren Bravo lbw b Moeen Ali 2
   Lendl Simmons c Moeen Ali b Bresnan 65
   Dwayne Bravo not out 87
   Darren Sammy c Broad b Bresnan 61
   Extras: (lb4, w10, nb1) 15
   TOTAL: (for 6 wickets) 269
   Overs: 50
   Fall of wickets: 1-19, 2-38, 3-40, 4-45, 5-153, 6-269.
   Did not bat: Denesh Ramdin, Jason Holder, Sunil Narine, Ravi Rampaul
   Bowling: Joe Root 9-2-47-1, Stuart Broad 6-1-35-0, Tim Bresnan 10-1-68-3 (w3), James Tredwell 10-1-23-1, Moeen Ali 6-1-25-1, Chris Jordan 9-2-67-0 (nb1, w7).
   England Innings(equals)
   Michael Lumb c Dwayne Bravo b Rampaul 106
   Moeen Ali c Narine b Smith 44
   Luke Wright c Dwayne Bravo b Sammy 1
   Joe Root c wk Ramdin b Narine 37
   Ben Stokes b Narine 5
   Jos Buttler c Holder b Bravo 12
   Ravi Bopara not out 23
   Tim Bresnan not out 14
   Extras: (b2, lb1, w9) 12
   TOTAL: (for 6 wickets) 254
   Overs: 50
   Fall of wickets: 1-96, 2-106, 3-180, 4-192, 5-205, 6-211.
   Did not bat: Stuart Broad, Chris Jordan, James Tredwell.
   Bowling: Jason Holder 4-0-27-0 (w2), Ravi Rampaul 10-0-53-1 (w3), Sunil Narine 10-1-36-2 (w2), Dwayne Bravo 10-0-59-1 (w2), Darren Sammy 10-0-46-1, Dwayne Smith 6-0-30-1.
   Result: West Indies won by 15 runs (leads three-match series 1-0).
   Man of the Match: Dwayne Bravo.
   Toss: England.