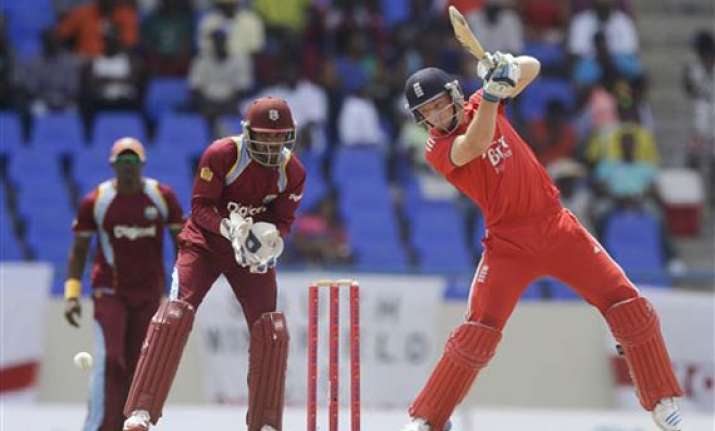 ST. JOHN'S, Antigua: Innings scoreboard in the third one-day international between the West Indies and England on Wednesday at the Sir Vivian Richards Stadium at North Sound:


England Innings
   Michael Lumb c Narine b Dwayne Bravo 20
   Moeen Ali c and b Miller 55
   Ben Stokes c Rampaul b Dwayne Bravo 0
   Joe Root c Darren Bravo b Dwayne Bravo 107
   Eoin Morgan b Narine 1
   Jos Buttler c and b Rampaul 99
   Ravi Bopara not out 5
   Tim Bresnan not out 1
   Extras: (5lb, 8w, 2nb) 15
   TOTAL: (for 6 wickets) 303
   Overs: 50.   
Fall of wickets: 1-37, 2-37, 3-115, 4-116, 5-291, 6-300.   
Did not bat: Stuart Broad, James Tredwell, Stephen Parry.   
Bowling: Dwayne Bravo 10-0-60-3 (w1), Ravi Rampaul 8-0-55-1 (w5), Darren Sammy 5-0-35-0, Dwayne Smith 1-0-6-0, Sunil Narine 10-1-52-1 (nb2, w1), Nikita Miller 10-0-48-1 (w1), Marlon Samuels 5-0-29-0, Lendl Simmons 1-0-13-0.   
West Indies: Dwayne Smith, Kieran Powell, Darren Bravo, Marlon Samuels, Lendl Simmons, Dwayne Bravo, Denesh Ramdin, Darren Sammy, Sunil Narine, Nikita Miller, Ravi Rampaul.   
Toss: West Indies.