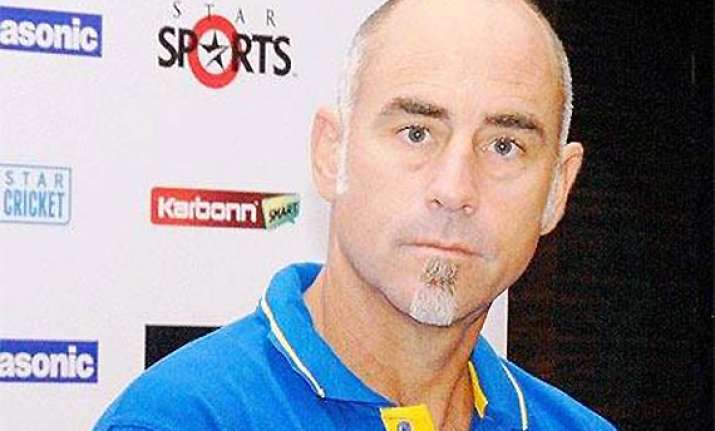 New Delhi: Rajasthan Royals' chief coach Paddy Upton has backed Australian all-rounder Shane Watson to succeed the just-retired Rahul Dravid as captain and said the franchise would wants to retain the former India skipper in some capacity.
Dravid played the last competitive game of his celebrated career when he walked out to lead the Rajasthan Royals in the final of the Champions League Twenty20 against Mumbai Indians here last night. Royals lost by 33 runs in the match which was for another batting great Sachin Tendulkar, his final game in the Mumbai Indians shirt.
"Shane Watson has been there from the beginning and he epitomises the Rajasthan Royals spirit, who places the team's needs ahead of his own needs. He is incredibly good with the younger players and is someone who bridges all the gaps in terms of the diversity of players we have. Maybe there will be someone else, but he would be a candidate," said Upton at the post-match press conference.
"Rahul has been very integral to the way we have set things up at Royals. He is very approachable and we would very much like to have him involved going forward in some way or the other," he added.
In the final, Dravid came to bat at No.8 with his team precariously placed at 159 for six in their chase of a mammoth 203.
The ploy did not work for RR as he scored just one run before his leg stump was flattened by a yorker from Nathan Coulter-Nile.
Upton said the decision was taken keeping in mind the chase and Dravid's strengths.
"We knew we had to go hard at the start and that doesn't play into Rahul's strengths. So we decided to go with Kusal Perera. It's a testimony to the kind of person Rahul is."
"He said that when we are chasing 12 to 15 runs an over, it makes sense to put other people who are more equipped to do it ahead of him. He was playing his last game, but he put the team ahead of himself," said Upton.