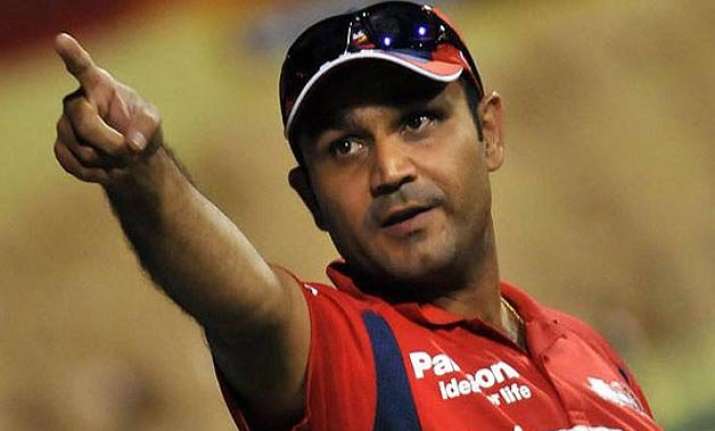 New Delhi: Swashbuckling former India opener Virender Sehwag, who recently retired from international cricket, has lashed out at selectors who picked players under the influence of "people in power" and at inefficient running of state associations.
Asked if it's a problem that state associations were not run efficiently, Sehwag, who recently shifted to Haryana from Delhi in domestic cricket, said, "Yes. It's not just Delhi.
There are other associations which have problems.
"You need to change things at U-19 and U-16 level because that's problem area. If you pick over-age players, it is a problem that needs to be identified. If you have a player whose name and stature is big, you won't have this problem," he told 'Cricinfo'.
Sehwag said that he cannot become a selector as that could be a 'conflict of interest' as he has opened a school where young cricketers would be groomed but would love to be part of a state association in another capacity.
"No, there is a conflict of interest. I have my Sehwag International School (in Haryana). So I cannot be a part of it. I cannot be a selector but if any association wants me to be a part of it, I would love to do that. There are other cricketers who have a reputation but they are not getting the opportunity to be a part of the selection panels.
"What is happening is that the guys in power introduce names to the selectors and the selectors then act according to these people's whims," he said.
Sehwag, now 37, last played for India in 2013 after scoring 8586 runs from 104 Tests and 8273 runs from 251 ODIs.
He might be known to have unflinchingly stuck to his 'see the ball and hit it' batting approach irrespective of match situations in his playing days, but Sehwag said he made changes in his techniques early in his career to emulate iconic Sachin Tendulkar.
"When I was growing up, I played a lot of 10- and 12-over games, I would bat in middle order. I got only 10-odd balls to face and I tried to score as much as I could. I applied the same approach in domestic and international cricket and people were appreciating my strike rate being more than 80 or 90 in Test cricket," Sehwag said when asked if his approach changed how batsmen opened the innings in a fundamental way.
"I was just playing my game and not thinking that I have to score quickly or do something different except when I joined the team and wanted to bat like Tendulkar. I realised there could be only one Tendulkar and I changed my stance and backlift. I realised I should change my game and I did it.
After that, I was playing with my own technique," he said.
Asked if there was only one Sehwag as well, he said, "Yes, because of my mindset and the impact I had on the team but there was only one Tendulkar.
(With PTI Inputs)