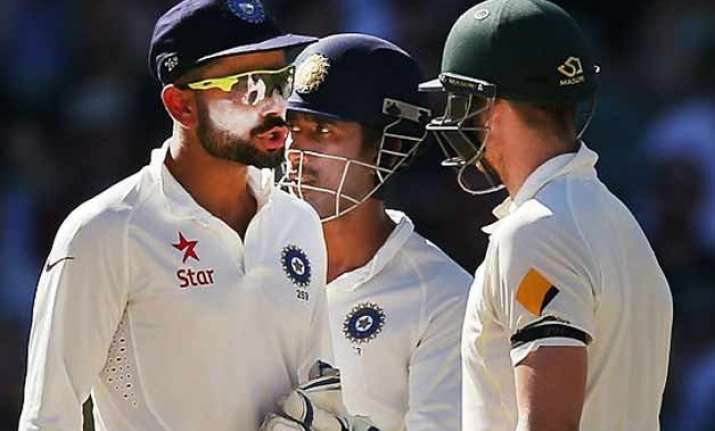 New Delhi: India's swashbuckling batsman Virat Kohli has been the most dominating across all the three formats of the game but also has been in the news of losing his temper. The 26-year old Delhi lad won India numerous games and has always been at the central position where Indian batting revolves around.
As much as Virat fires with his bat on-field, he is equally well known for losing his cool every once in a while. The recent example of his misbehaviour is when he abused a senior journalist of renowned Indian newspaper during a practice session in Perth ahead of India's Pool B encounter against West Indies in the World Cup. The team management however denied such claims and said that Virat mistook him for another journalist who had written a story about him and Anushka Sharma.
He was later warned by the BCCI after the journalist complained to the Indian board and ICC.
Apart from this, the Indian batsman is also known for using abusive languages while celebrating his centuries.
We bring you five instances where Kohli had been in the news for losing his temper:

1) Middle finger gesture in Sydney
Virat Kohli was pleaded guilty and slugged 50 per cent of his match fee for giving the one-fingered salute to parts of the crowd on day two of the Sydney Test in India's 2011-12 tour to Australia, in India's 2011-12 tour to Australia.
Defending himself after the incident, the right-hander tweeted that the crowd had uttered some appalling words directed towards him, leading him to retaliate in the manner that he did. "I agree cricketers don't have to retaliate. What when the crowd says the worst things about your mother and sister. The worst I've heard," he said.

2) Verbal spat with Australian players
In the same tour in 2012, Kohli's journey to his maiden Test hundred, against Australia in Adelaide, wasn't as smooth-sailing as he would've hoped as he got into a spat with a number of Australian players during the innings. Especially when he was on 99 and in search of a quick single, his eagerness to get to that elusive mark almost cost the team as a run-out chance was missed by just a whisker. After getting back on his feet, the Delhi batsman was seen having some heated exchanges with the Australians, repeatedly pointing his bat towards them.
His anger subsided a bit only when the experienced Ricky Ponting intervened to calm the situation down and asked Kohli to move on with the game. He reached his century in the subsequent over and on reaching the mark, he let fly a volley of abuses and vented his anger through his celebration.

3) Kohli-Gambhir spat in IPL
This time it was two Indian batsmen playing for different teams in IPL involved in a verbal spat. During the 2013 edition of the Indian Premier League (IPL), Kohli was involved in a heated confrontation with fellow India and Delhi teammate Gautam Gambhir at the Chinnaswamy Stadium in Bangalore.
Upon being dismissed off the bowling of Lakshmipathy Balaji during Royal Challengers Bangalore's (RCB's) run chase against Kolkata Knight Riders (KKR), KKR skipper Gambhir appeared to say a few words to Kohli, which was enough to provoke a response. The two players charged towards each other and were seemingly set for fisticuffs before being separated by the KKR players.