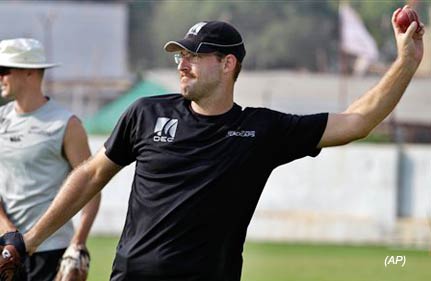 Ahmedabad, Nov 1: He is regarded as the best left-arm spinner in contemporary cricket, but New Zealand skipper Daniel Vettori still yearns to improve and has set himself a target of 4000 runs and 400 wickets in Test matches.
"I think at times I have been a Test bowler but that is one part of my game which I would like to improve the most. I think that my batting in both forms of the game has come on well and also one-day bowling," Vettori told reporters during an interactive session here today.
"It is Test match bowling that I want to get better at. It is one of the goals that I want to achieve," he said when asked to comment on him being tagged as an ODI bowler rather than a Test material.
Vettori said his game has developed in the last few years and he has concentrated more on improving on his all-round skills.
Asked how does he viewed Sir Richard Hadlee's record of 413 wickets in Test cricket, Vettori said, "4000 runs and 400 wickets is something that I aspire to and it is not too far away."
"I look at that in 431 (Hadlee's record). I still see Sir Richard Hadlee as the greatest bowler," the 31-year-old Kiwi said.
Asked whether batting at number six was taking away his interest from bowling, Vettori said, "I like the responsibility. I like to contribute with the bat as well. I think it helps me in my bowling and keeps me going."
He described the series against India as the toughest challenge for the Kiwis, who were recently mauled 0-4 in a five-match ODI series by minnows Bangladesh .
" India is number one for a reason. They will be looking for a comprehensive win. It is up to us to maintain our standards because that's the only way we can compete with India ," Vettori said.
He said the Bangladesh debacle was the lowest his team could ever go.
"We have identified the problems and have improved on them. There is a World Cup in a few months time. We understand how we need to get back, but to understand the problem and solving it is a difficult thing," Vettori added.
"We are trying to improve our rankings in the Test cricket and trying to improve as a team. We want to start off with a mindset of getting draws. I want to take it from there and go forward," he said. PTI