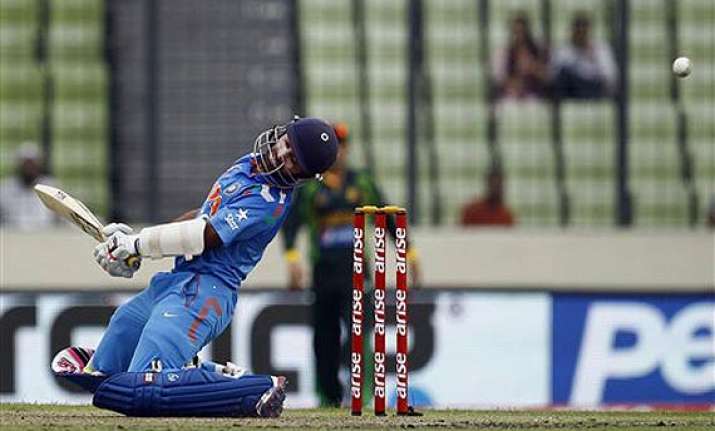 Mirpur (Bangladesh): 
All but eliminated fromthe race to final, a demoralised India would look to sign off their disastrous Asia Cup campaign on a positive note when they take on spirited debutantes Afghanistan in their lastround-robin league match here tomorrow.
Hit hard by successive defeats, India will be eyeing a bonus point win over Afghanistan to boost their sagging morale in what has been a depressing campaign for the record five-time champions.
India's minuscule chances of making the final hinge on bizarre arithmetical equations. Virat Kohli's men would haveto get past Pakistan in net  run-rate so as to make the final,a situation which will only arise if Bangladesh managed to beat Pakistan in their last match.     
Four-time champions Sri Lanka have already sealed theirfinal berth cruising to a third consecutive win, this time with a bonus point against Afghanistan  last night.
But it's not going to be easy for the Indians who lookvulnerable without regular skipper Mahendra Singh Dhoni asthat winning edge has been missing from the side.
The batting has centred around Kohli as none of the other batsmen have shown the temperament to stay at the crease and go all the way.     
For a team that relies on its batting prowess, it is proving to be the difference between a victory and loss.
It will be once again a test of the Indian batting against minnows Afghanistan who have been
a revelation in this tournament putting up an impressive show especially with theirpace bowling.
They have a potent pace attack in the Zadran duo ofShapoor and Dawlat and the left-right combination bring in the variety to fast bowling.
Spin department also has the variety in the trio of skipper Mohammad Nabi, Samiullah Shenwari and Hamza Hotak