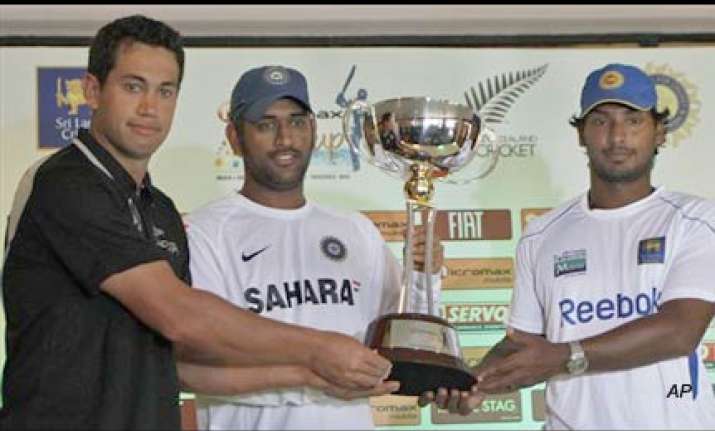 Dambulla (Sri Lanka): New Zealand skipper Ross Taylor on Monday  said the tri-series in Sri Lanka would earn Black Caps some valuable experience of playing in sub-continent conditions before the 2011 World Cup. India, Sri Lanka and Bangladesh will co-host the next edition of the World Cup.  
"Definitely, ideal preparation. Obviously, coming from New Zealand, the pitches are going to play differently but the conditions that we have here and in India and in Bangladesh will be similar to what we are going to experience in the World Cup," Taylor said at a joint press conference on the eve of tournament-opener against India.  
"So this experience is going to be valuable for the team and for the youngsters leading in to the selection for the World Cup," he added.  
Taylor, asked to lead the side in absence of Daniel Vettori, feels the series will also be a good chance for the players to prove their worth in sub-continent conditions and impress the selectors.
"I think it's good, it gives some other players an opportunity and some youngsters the chance to play in the sub-continent as well. If we can have a squad of 20-odd to pick from and push each other, I think it will augur well for the upcoming months and for the World Cup," he said. Having played a few practice games, Taylor said his team is in a good shape for the series.  
"Every time you play cricket, you obviously play to win. We have come here to win, we won warm-up games and probably have got an edge over them in playing the competition. "We know it's going to be tough but we are looking forward to challenge. Hopefully, we can put some performances on the board and obviously start with a win," he said.  
Talking about the players, Taylor specifically mentioned about Andy McKay and
Kane Williamson
, who he said will make his debut tomorrow.
"All exciting players. Andy McKay is our fastest bowler in the squad and after losing Shane Bond through retirement, he is going to become a big part of our side and our make-up.  
"BJ Watling and Kane Williamson are two young and exciting players. I think they have been playing and developing over the last couple of weeks and the games have been exciting.
"Kane has been a player that has been earmarked to play for New Zealand for a long time. He's only just turned 20, he's exciting raw talent and he is a pretty level-headed guy." PTI