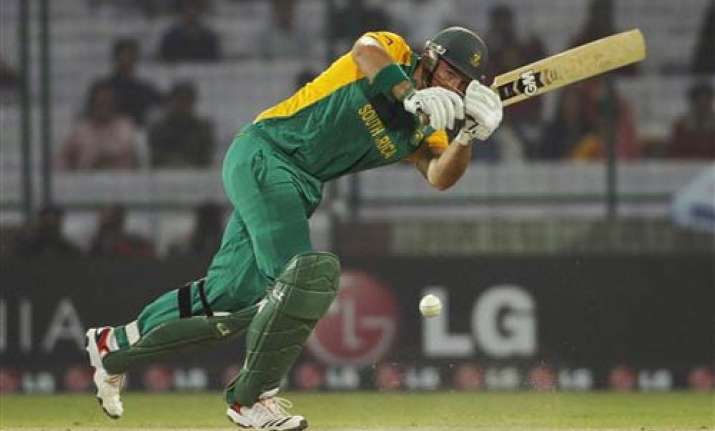 New Delhi, Feb 24 : South African captain Graeme Smith today said that selecting three specialist spinners in the team for their World Cup opening match against West Indies was a conscious decision and the strategy paid dividends.
Smith said it was always a good feeling when all the strategies work for the team and he was particularly pleased with the convincing seven-wicket win against the West Indies.
"All the strategies worked for us today and it's been a really good day. There could be days when things don't work out your way and you ask why it was done," Smith told a post-match press conference where he lavished praise on centurion AB de Villiers.
The dashing de Villiers scored an unbeaten 107 for the South Africans while chasing 223 for victory and Smith showered praise on the batsman who has become a vital cog in his team."It was a great knock by AB (de Villiers). He is one of our key batsmen and has always shouldered the responsibility.
His ODI cricket has been excellent," he pointed out. Asked why he opted to open the bowling attack with spinner Johan Botha, Smith said, "It was mainly because there
were two left handers upfront and I thought a spinner could slow down the pace.Sometimes you try something new and it works. Today most of the things worked for us."
On debutant leg-spinner
Imran Tahir
, the South African captain said, "He really bowled well. We used him in short spells and he responded superbly. Every time he came back, he made an impact.""West Indies were batting well but we really managed to create pressure in the middle overs. I think that was crucial," said Smith.
On the Kotla pitch, Smith said "the ground staff have made a hell of an effort. It was a fair game and I think the pitch was good."Asked what he told AB de Villiers when he came in to bat with South Africa in a precarious position, Smith said, "I just told him that we have to hang around and build a partnership. But he came and took the game away from them."West Indies skipper Darren Sammy said failure to build partnerships cost them the match.
"Many of our batsmen got the starts but they could not translate that into big knocks. That really cost us. We were looking at a score of 270 or so but managed just 222," he said.Sammy also said the all-rounders in the team like Kieron Pollard and himself did not perform upto expectations.
On whether he was surprised by the South African strategy of picking three spinners against them, Sammy said, "The conditions probably dictated their decision. The conditions in the sub-continent help the spinners and they will have a big role to play in the World Cup."He said that the team lost too many wickets in the later stages of the innings and that prevented them from putting up a big total on the board. PTI