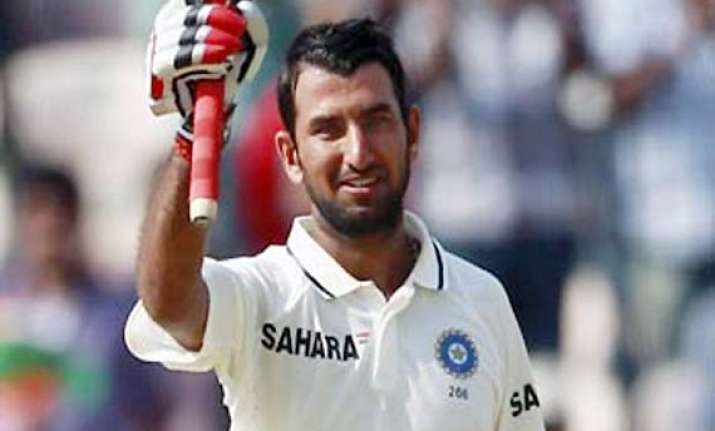 Mumbai, Nov 24: Young Indian batsman Cheteshwar Pujara today rated his century in the first innings of the ongoing second Test higher than the unbeaten double hundred he struck in the first Test, saying it has come in a more challenging situation.
Pujara, who is in scorching form, scored 135 to script India's revival in the second Test.
"I think this innings was better than the Ahmedabad one.  This was more satisfying than the double hundred. We were in trouble and the team needed a score on the board. Even the wicket was difficult to bat on. Yes it was satisfying to score a hundred in a difficult situation," said Pujara, who had scored 206 not out in the series opener at Ahmedabad.
"The first target was to put up 350 on the board. We tried out best and in the end had a decent total."
Pujara, who has batted for over 1,000 minutes and has been dismissed just once in three innings in the series, conceded that they needed a few more England wickets today but was optimistic it will happen tomorrow morning.
"The wicket (pitch) has eased out a bit. We needed more wickets. A couple of decisions went against us. I feel we bowled decently. It might be a different day tomorrow. It turns a bit more in the first session, we have to utilize that and get some more wickets tomorrow," he said.
"Initially it was difficult to play spinners. But wicket is slowing down a bit. It's just two days so far. It might turn later on, but it's very difficult to predict the wicket now," he elaborated.
Pujara dismissed comparisons with the player he has replaced in the team - the legendary Rahul Dravid.
"Consistency is the most important point for a batsman and I am happy I am able to perform consistently. That's what I always try to do. I do the same thing in domestic format and happy to be doing that internationally.
"It's a wrong comparison as Rahul Dravid has scored more than 10000 runs each in both the formats. I am just starting my career and don't want to put any extra pressure on myself.  I want to play my natural game and continue for Team India," he said.