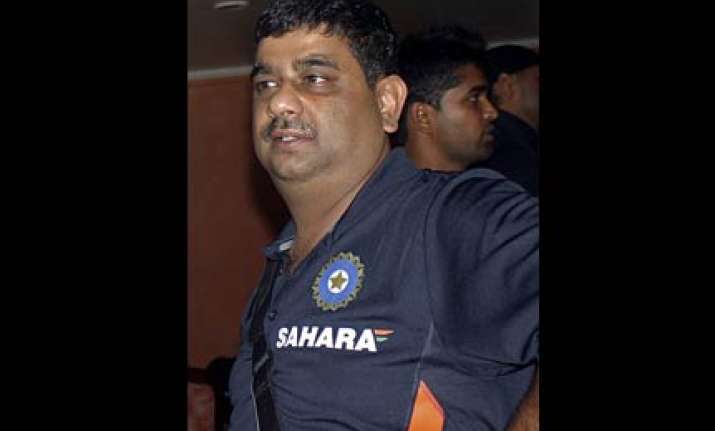 Dambulla : Indian team manager Ranjib Biswal on Tuesday said the side was upset about the deliberate no ball that Suraj Randiv bowled to deny Virender Sehwag a hundred but insisted that things have cooled off after apologies from the bowler and Sri Lanka Cricket.
 Sehwag was just one short of his 13th ODI hundred when Randiv, who had not bowled a no ball in the Test or ODI series, bowled one last night which was hit by the opener for a six.
However, it did not count because the no ball amounted to India's winning run leaving Sehwag on an unbeaten 99 in the ODI tri-series match.
Biswal said the episode disappointed the Indian team.
"We didn't have a team meeting to discuss it but all of us felt bad about it. The sentiment of the team was Virender Sehwag really deserved a century for the way he played and won India the game," Biswal told reporters here.
 Biswal said he got a call from Sri Lanka Cricket secretary Nishantha Ranatunga this morning to offer apologies for the incident and assure him of an SLC inquiry.
 "Today in the morning, Sri Lanka Cricket secretary Nishantha Ranatunga called me up expressing his regret about yesterday's no-ball incident. He expressed his regret officially and asked me to convey it to the Indian team and particularly to Sehwag," he said.
 "They have also assured that they will look into the matter officially, why it happened and correct the procedure. On behalf of Team India, we have accepted Nishantha's regret and we hope that both the countries' cricketing relations go forward," he added.
Looking back at the incident, Biswal said the entire dressing room had started celebrating what they thought was a century by Sehwag.
"Initially we thought Sehwag had got his hundred. But later on, as we got to know the rules, we were disappointed that he had missed out on a hundred. Sehwag had expressed himself that he was a bit disappointed about the thing," he said.
"I think Sri Lankan Cricket realised that and Mr Nishantha, on behalf of his board, officially expressed his regret and assured that they will probe the incident," Biswal added.
He said after the match, Randiv himself came to Sehwag's room to apologise.
"Randiv has himself gone to Sehwag's room (last night) and apologised for his action. I believe (Kumar) Sangakkara has spoken to Gary (Kirsten) and expressed his regret," he said.
"So basically, it was done in the spur of the moment and once that action seeped in, people realised that they have made a mistake and they have come forward and expressed their apology.
"If you go by the rules, it's very much lawful. There is no violation of cricket rules. But when it comes to spirit of cricket and gamesmanship, one feels slighted about these things. Since they have expressed their regret and apologised for their action, we should put an end to this episode," he added.
Biswal said Sehwag was no longer upset about the incident.
"He is a very cool guy and he takes things in his stride. Yes, the regret of not getting an international hundred was there but he took it in his stride. But he managed himself well. Everyone is smiling now," he said. PTI