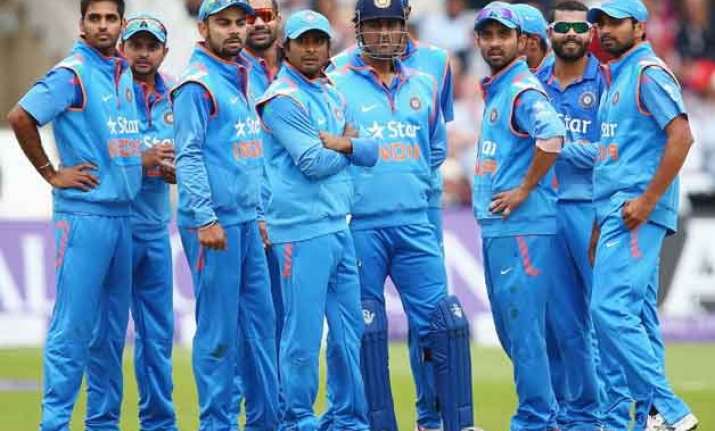 New Delhi: ICC World T20 Championship 2016, one of world's biggest cricket festivals, is finally here. Commencing on March 8, the world cup final will be played on April 3 in Kolkata.
A total of 16 teams are taking part in the World T20 Championship 2016. The tournament is starting today with group stage matches which will be played between two groups.
Group 1: Bangladesh, Ireland, Netherlands, Oman
Group 2: Zimbabwe, Scotland, Hong Kong, Afghanistan
One team from each group will qualify and join the top eight teams for Super 10 round of the  tournament.  
For the Super 10 round, the teams have been further divided into groups, A and B, comprising of five teams each.
Group A: Sri Lanka, South Africa, West Indies, England and the qualifying team from Group 2 of the first round
Group B: India, Pakistan, Australia, New Zealand and the qualifying team from Group 1 of the first round
Here is the complete schedule of the World T20 Championship 2016:
Group Stage
8th March 2016, Tuesday
Zimbabwe vs Hong Kong (3:00 PM)
Scotland vs Afganisthan (7:30 PM)
Venue: Nagpur
9th March 2016, Wednesday
Bangladesh vs Netherlands (3:00 PM)
Ireland vs Oman (7:30 PM)
Venue: Dharamsala
10th March 2016, Thursday
Scotland vs Zimbabwe (3:00 PM)
Hong Kong vs Afganisthan (7:30 PM)
Venue: Nagpur
11th March 2016, Friday
Netherlands vs Oman (3:00 PM)
Bangladesh vs Ireland (7:30 PM)
Venue: Dharamsala
12th March 2016, Saturday
Zimbabwe vs Afganisthan (3:00 PM)
Scotland vs Hong Kong (7:30 PM)
Venue: Nagpur
13th March 2016, Sunday
Ireland vs Netherlands (3:00 PM)
Bangladesh VS Oman (7:30 PM)
Venue: Dharamsala
Super 10
15th March 2016, Tuesday
New Zealand vs India (7:30 PM)
Venue: Nagpur
16th March 2016, Wednesday
West Indies vs England (3:00 PM)
Venue: Mumbai
Pakisthan vs Q1A (7:30 PM)
Venue: Kolkata
17th March 2016, Thursday
Sri Lanka vs Q1B (19:30 PM)
Venue: Kolkata
18th March 2016, Friday
Australia vs New Zealand (3:00 PM)
Venue: Dharamsala
South Africa vs England (7:30 PM)
Venue: Mumbai
19th March 2016, Saturday
India vs Pakistan (7:30 PM)
Venue: Dharamsala
20th March 2016, Sunday
South Africa vs Q1B (3:00 PM)
Venue: Mumbai
Sri Lanka vs West Indies (7:30 PM)
Venue: Bengaluru
21st March 2016, Monday
Australia VS Q1A (7:30 PM)
Venue: Bengaluru
22nd March 2016, Tuesday
New Zealand vs Pakistan (7:30 PM)
Venue: Mohali
23rd March 2016, Wednesday
England vs Q1B (3:00 PM)
Venue: New Delhi
India vs Q1A (7:30 PM)
Venue: Bengaluru
25th March 2016, Friday
Pakistan vs Australia (3:00 PM)
Venue: Mohali
South Africa vs West Indies (7:30 PM)
Venue: Nagpur
26th March 2016, Saturday
Q1A vs New Zealand (3:00 PM)
Venue: Kolkata
England vs Sri Lanka (7:30 PM)
Venue: New Delhi
27th March 2016, Sunday
India vs Australia (3:00 PM)
Venue: Mohali
Q1B vs West Indies (7:30 PM)
Venue: Nagpur
28th March 2016, Monday
South Africa vs Sri Lanka (7:30 PM)
Venue: New Delhi
30th March 2016, Wednesday
Semi Final 1 (7:30 PM)
Venue: New Delhi
31st March 2016, Thursday
Semi Final 2 (7:30 PM)
Venue: Mumbai
3rd April 2016, Sunday
Final
7:30 PM
Venue: Kolkata