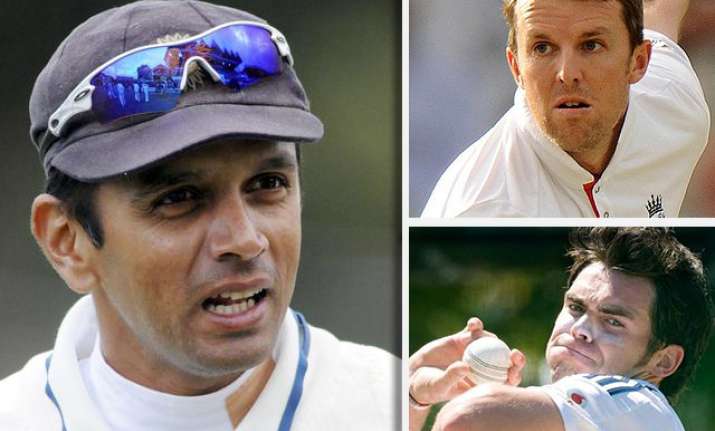 London, Jul 12: Rahul Dravid believes counterattack may be the best method of keeping England's world No1 spin bowler Graeme Swann at bay this summer, reports The Guardian.

Team India arrived in England on Tuesday morning for the four-match Test series, starting at Lord's next week, in which they will be out to protect their own No1 status against the hosts who are currently third in the International Cricket Council rankings.

Dravid averages more than 60 in Test cricket in this country and was part of the team that beat England 1-0 on India's last tour four years ago. But the veteran batsman has identified Swann – the leading slow bowler in the ICC's rankings for both one-day international and Test cricket – and England's pace spearhead Jimmy Anderson as significant threats.

"James Anderson has bowled really well. He's been the trump card," Dravid told the Cricketer magazine. "Obviously Graeme Swann is a top-class spinner. We first saw him in England bowling here last time, and the boys rated him. He's come on leaps and bounds from then and has become one of their lead bowlers.

"He's an attacking bowler, and that's one of the things that is different. He's not just looking to contain; he's looking to take wickets. He's not scared to toss the ball up and gets turn with good sideways spin. It will be a good contest against batsmen who are good players against spin, who will not be scared to take him on."

The 38-year-old Dravid is proud of India's achievement in rising to the top of world cricket, and staying there – and he is well aware of England's ambition to usurp them.

"All series are important series," he said. "But this one is important because it's a series between two teams that have had good recent records, which gives it a bit more context.

"It's a hard one to call. England are playing at home, so they have that advantage. We're a good side, a settled side, and we've been playing good cricket over the last couple of years. If we can keep our fast bowlers fit, then we'll be very competitive."