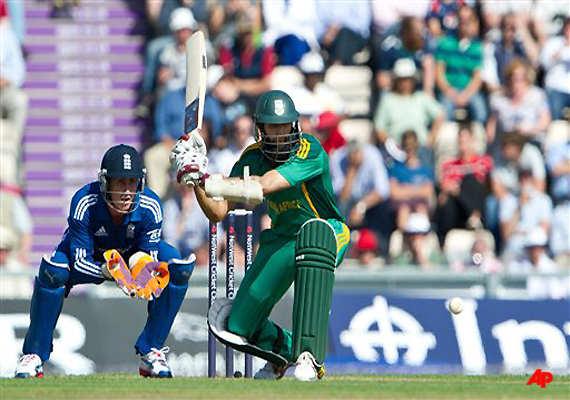 Southampton (England), Aug 28: Hashim Amla hit his highest one-day international score of 150 on Tuesday, to steer South Africa to 287-5 against England, in the second ODI at the Rose Bowl.
Live Score
Amla, who was twice dropped by England wicketkeeper Craig Kieswetter on 42 and 92, played a characteristically elegant 124-ball innings that included 16 fours, to make his 10th ODI century.
South Africa's next highest scorer was Graeme Smith, who made 52 from 76 balls with five fours.
Graeme Swann had England's best bowling figures with 2-50.
After winning the toss and choosing to bat South Africa made a steady, if unspectacular start. Smith reached his 46th ODI 50 with a slightly scruffy single off Tim Bresnan's final ball from the 18th over, but England responded by taking the bowling powerplay and removing Smith two overs later.
Smith tried to swat Bresnan through midwicket, but he got a top edge and fell to a running catch by Kieswetter.
Kieswetter then missed a sharp chance to catch Amla when he got a thin edge from Samit Patel and England used up its referral on an lbw shout from James Anderson against
JP Duminy
that pitched outside leg stump.
Amla reached his 50 with a glanced single from Patel, but was then at least partly to blame for running out Duminy for 14.
Thinking he'd driven Swann past Anderson at midwicket, Amla tore down the wicket, only to see Anderson gather the ball and smartly whip it to Kieswetter, leaving Duminy stranded.
Dean Elgar
, playing in his first international innings, was bowled by a sharply turning slower ball from Swann for 15 before Amla was dropped for a second time when Kieswetter failed to hold a one-handed chance off Finn.
Amla -- who made scores of 311 not out and 121 after being dropped by England during the recent test series -- responded by bringing up his century from 96 balls with a single from Patel in the 41st over.
England's frustration mounted when AB de Villiers appeared to be caught behind off a bottom edge off Swann in the next over and the hosts were unable to refer umpire Simon Taufel's not out decision.
Swann bowled De Villiers for 28 as he tried to charge down the wicket in the 44th but Amla passed his previous best of 140 -- scored against Bangladesh in 2008 -- when he scrambled for a single off Anderson in the penultimate over.
In the final over Amla cut Finn for four to reach 150 but he was caught off Finn's next ball by Bresnan at short third man.
Faf du Plessis
finished on a useful 22 not out from 19 balls.