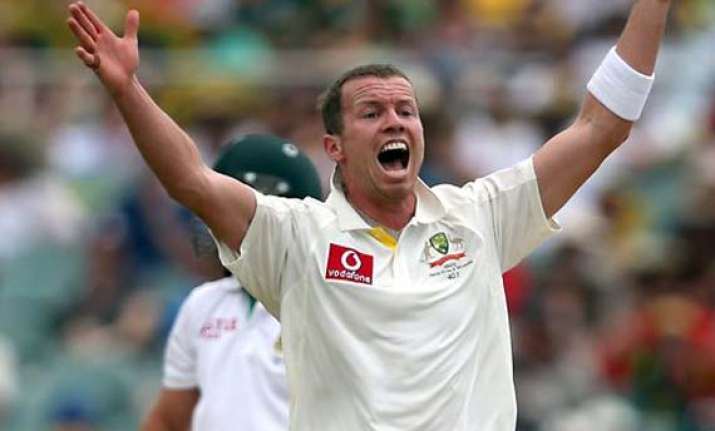 Perth, Australia, Nov 28: Australia's pace spearhead Peter Siddle says he's confident of being fit to play in the decisive third test against South Africa starting Friday in Perth.
Siddle has been recovering from a marathon 33-over bowling effort in intense heat in the fourth innings of the drawn second test and will not bowl in the nets until Thursday. On Wednesday he his body was responding well and he is confident he will be ready to play at the WACA.
The 28-year-old said his bowling spell Monday was one of the toughest experiences of his test career.
"It was very dry heat out on the field which was tough work and a lot of overs ... just a bit of exhaustion and fight trying to get those last couple of wickets," Siddle said.
Faf du Plessis
weathered Australia's bowling attack throughout the final day of the second test to score an unbeaten maiden century and help South Africa salvage a draw.
Despite Australia's official policy of rotating its fast bowlers to ensure adequate recovery time and avoid burn out, the loss of paceman James Pattinson for the season with a side strain makes Siddle's fitness for the third test vital.
"Last couple of days I'll just take it easy and get ready tomorrow and prepare then. I feel good, I've got plenty of sleep and the body is feeling good which is nice," Siddle said. "I woke up feeling good this morning ... so I'll have a bit of a trundle tomorrow and see how we go there."
Three new fast bowlers have been added to Australia's squad for the deciding test: Mitchell Johnson, Josh Hazlewood and John Hastings.
Siddle said Johnson had fitted back in into the side well after 12 months out of test cricket.
"We've spent a lot of time together and played a lot of cricket together so it's nice to have him back around the group," Siddle said. "My (Victoria) teammate John Hastings and young Josh Hazlewood is back in the group - so it's a good group of guys."