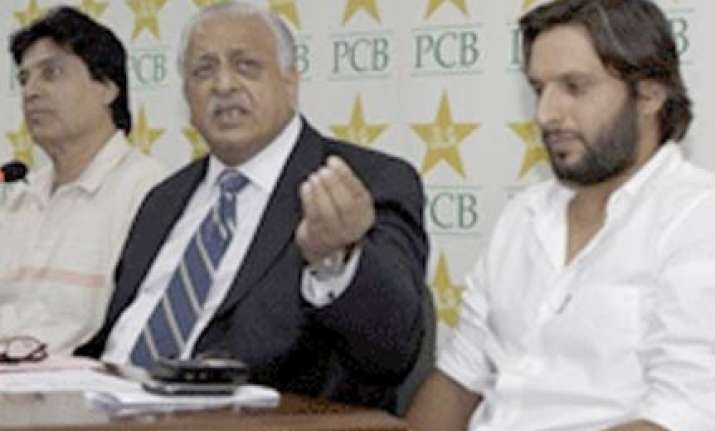 Shoaib Akhtar and Shoaib Malik are back in Pakistan's national cricket team announced for the 10th Asia Cup in Sri Lanka to be played from June 15.
The squad was announced by chief selector Mohsin Kahn along with chairman Pakistan Cricket Board (PCB) Ijaz Butt and captain Shahid Afridi at a press conference here on Thursday.
The team: Shahid Afridi (captain), Salman Butt (vice-captain), Imran Farhat, Shahzaib Hasan, Umar Akmal, Asad Shafiq, Shoaib Malik, Umar Amin, Kamran Akmal, Abdul Razzaq, Mohammad Asif, Mohammad Amir, Shoaib Akhtar, Saeed Ajmal, Abdul Rehman.
Butt said  both Shoaib Akhtar and Shoaib Malik passed fitness tests and hence they became part of the team.
Captain Shahid Afridi said the team should be benefited from the experience of Shoaib Akhtar and though he is playing after a long time but it is not difficult for him to adjust himself.
Ijaz Butt said  fines imposed on Kamran Akmal and Umar Akmal have been halved.
 
Former chief selectors Salahuddin Sallu and Abdul Qadir, and coach Waqar Younis have welcomed  fast bowler Shoaib Akhtar's return to the national team but Qadir expressed surprise on inclusion of four openers in the team.
 Waqar Younis said  Shoaib Akhtar's inclusion is a good thing for the team and he would be used in short spells.
Salahuddin Sallu termed the team a balanced one and said inclusion of Shoaib Akhtar and Shoaib Malik will enhance the team's prospects in the Asia Cup.