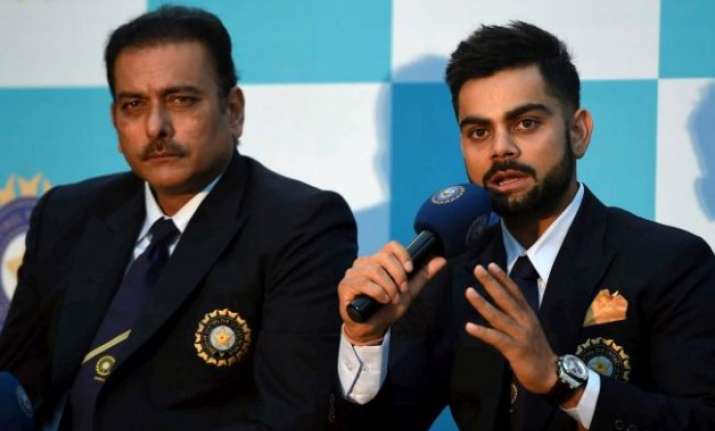 Sydney: New Indian captain Virat Kohli should channelise his aggressive attitude in the right direction, according to Team Director Ravi Shastri, who said Mahendra Singh Dhoni's "selfless act" of retiring from Test cricket format at the right time should also be given its due respect.
In an exclusive interview to PTI here today, Shastri said that there was nothing wrong with Kohli's aggression but it should be used to help build a young team into a dangerous outfit in the near future. He said Kohli was a young captain and will gradually mature into a better cricketer and leader.
He also strongly rebutted reports that the growing closeness between him and Kohli resulted in Dhoni quitting the format with immediate effect.
But Shastri did admit that Dhoni's sudden decision to retire in the middle of the Test series against Australia was a bolt from the blue for him and the rest of the team.
However, he also acknowledged that Dhoni did deliberate quite a bit before making the decision and defended its timing by saying that those who question the wicketkeeper-batsman's motives have no idea what he gave to Indian cricket.
The former player also hinted at taking a full-time role with the Indian team after next month's ODI World Cup.
Excerpts from the interview:
Q: Virat Kohli is the next captain. Do you think he needs to curb his aggressive mood a little bit?
A: What is wrong with that aggressive attitude? If he was only talking on the field and had scored only 5 runs in three Tests, I would have had a word with him. But he is 1 run short of 500 runs in this series. So obviously he is doing something right and it is working wonders for him and the team of course. He is an aggressive cricketer and he loves this attitude on the field and it brings out the best in him.
Sir Vivian Richards is in Melbourne and has praised his attitude. The whole of Australia is admiring him the way he is playing here, because for a long time they haven't seen anyone who plays such brand of cricket, against them, in their own country.
Of course Virat is only a young man, a young captain now, he will learn gradually with time as well. He will mature into an even better cricketer and that is only good for the team as a whole.