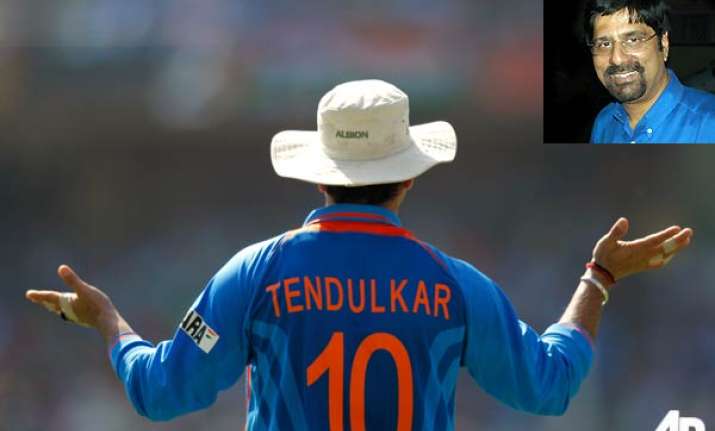 Mumbai, April 5 : India's chief selector Krishnamachari Srikkanth, who has a rare double of winning the World Cup as a player and selector, told the Mumbai newspaper DNA that it was Sachin's presence which made the difference in the World Cup final.

Srikkanth also said that Yuvraj Singh has developed into a good finisher from a slam-bang batsman.

Here are excerpts from the interview:

So, you won the World Cup twice…

God has been kind to me. I cannot say. I worked hard as a selector as much I had worked as a player. We planned for this two years in advance. We had inputs from the captain and coach. We made sure that the best combination was picked for the World Cup. We tried a lot of players before the event. The rotation of players helped us.

There was a lot of criticism of that you had not planned enough for the event?

I would say the policies of the company must not be discussed in public. We believed that.

So your thoughts on the World Cup win?

One reason was the presence of (Sachin) Tendulkar. He is an inspirational figure and everyone wanted to do it for him. It provided the players extra motivation. He made a good difference to the team. Some of the starts, he and Sehwag, gave were very crucial. Gambhir played the sheet-anchor role to perfection throughout the series. That's very important. One guy had to stay there. Then, Virat Kohli was consistent and his fielding was extraordinary.

What about Yuvraj?

Yuvraj transformed himself from a part-time bowler to a regular bowler. He filled in the all-rounder's slot brilliantly. And from being a slam-bang batsman, he became a finisher. It was a good progress.

And the skipper?

He came with the moves that were exactly what was needed, particularly, in the final. He was willing to take up the responsibility. He takes some strong decisions and sticks to those decisions. Some the bold decisions work, sometimes they don't work. In Dhoni's case, he would take the blame upon himself and admit that he made a mistake.

Is he the best Indian captain ever?

I won't like to compare captains and teams. I must accept that today he is the best captain we can have.

What about the bowlers?

When all the bowlers like Bhajji (Harbhajan Singh), R Ashwin, Munaf Patel and Ashish Nehra did well. Zak (Zaheer Khan) came up with crucial breakthroughs. He was like Wasim Akram of 1992 and Chaminda Vaas of 1996.

How confident were you of this side?

Right from the beginning,I knew we will win it. I was right.