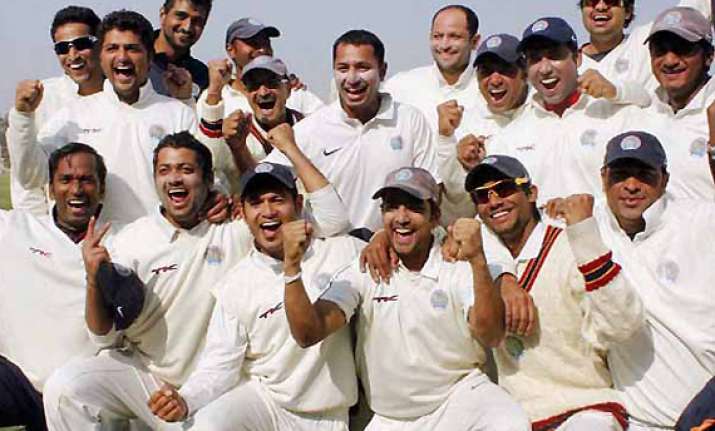 Chennai, Jan 23: Rajasthan completed formalities on the fifth and final day as they successfully defended the Ranji Trophy by virtue of first-innings lead against Tamil Nadu, at the Chepauk, here today.

The match was dead as a contest on the fourth day itself, when Rajasthan managed a huge 326-run first innings lead.

Rajasthan walked away with a winners' cheque of Rs 2 crore while Tamil Nadu got half that amount.

With only academic interest left in the match, Rajasthan declared at 204 for five in the second innings, leaving Tamil Nadu to bat out a few mandatory overs which would have ended the drudgery. The match was called off after the hosts had managed eight runs for the loss of two wickets in 13 overs.

The man who has turned a bunch of 'also-rans' into a gutsy domestic outfit is undoubtedly Hrishikesh Kanitkar.

With back-to-back domestic titles under his belt, Kanitkar will certainly now be remembered as one of the finest domestic captains in recent times rather than a 'one-shot wonder' which has been his claim to fame for past 12 years.

Kanitkar, who became a journeyman cricketer six seasons back when his own state Maharashtra dumped him, though, admitted that the title should be attributed to "a bit of luck and loads of hardwork" that his boys put in.

"It's an amazing feeling. At the group stage, we had a few results going our way. We won a few matches and then a combination of favorable results got us in the knock-out. We played superb cricket after that," Kanitkar stated at the post-match presentation ceremony.