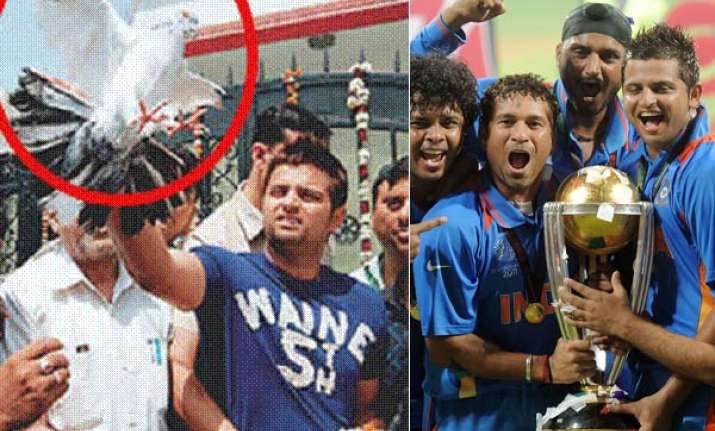 Ghaziabad, April 6:  Team India cricketer Suresh Raina on Tuesday released eleven white pigeons to celebrate the World Cup win.
 
Said Raina: "Releasing white pigeons is a good omen and I am doing this from my own residence."
 
Senior BJP leader Rajnath Singh called on Raina to felicitate him on the historic win. He offered bouquets to Raina's father T C Raina, his mother and members of the family.
 
Suresh Raina made 74 runs in fourth World Cup matches with a strike rate of 98.66.  These included five fours and a six. Raina had a unbeaten relationship with Yuvraj Singh against Australia.  It ws Raina who stood out during the powerplays against Australia and Pakistan.
 
The left-handed batsman also stopped many runs with good fielding. Raina was not opted for the first four league matches, but he showed his mettle in the remaining four matches in the World Cup tournament.
 
The Uttar Pradesh government has decided to bestow the Kanshi Ram Antarrastriya  Puraskar on Suresh Raina and Piyush Chawla.