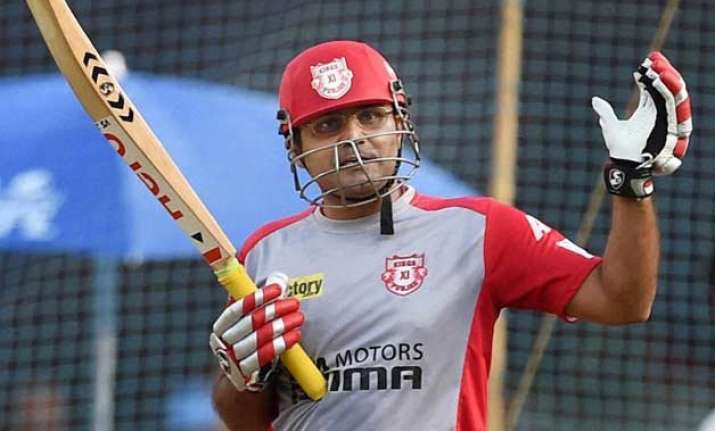 Mumbai: Out-of-favour India opener Virender Sehwag on Tuesday said that the start of the cash-rich Indian Premier League less than 10 days after the conclusion of the ongoing cricket World Cup was not a problem as the players were used to such kind of tight schedule.
Asked if the players would be exhausted after the month-and-a-half-long World Cup, Sehwag said, "I haven't checked the schedule, but I have heard that the IPL starts on April 8. It is always like that. You will get two weeks or one week break before the IPL, and then you go home and come back and join your teams.
 
"We are professionals and we are used to (it). Like you work 365 days in a year, for us also it is not 365 days, but only 65 days that we play, so we are okay with that," said the Delhi batsman, who now plays for Kings XI Punjab in the IPL, at the jersey launch of the team here.
The World Cup final is scheduled for March 29 and the IPL commences on April 8.
Runners-up in the 2014 edition, Sehwag credited Kings XI Punjab coach Sanjay Bangar for his man-management skills.
"He gives space to the player. He gives time to the player. He will have a chat with him. The players chat with him like a friend. Same thing he did with me in IPL 7. He said you know what to do and you are my best friend, so let's take this team together and give your feedback.
"He is not doing any coaching stuff, but handling each and everyone. He is asking questions to the players, so the players can give answers and he can write it down and remind them before the game which is a good thing to do," he said.