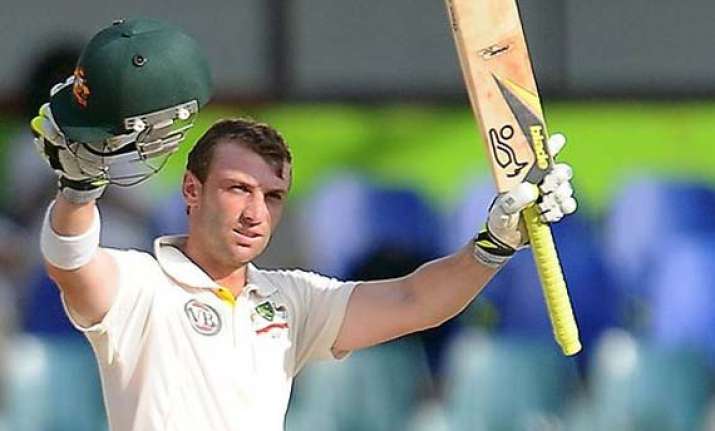 Hobart, Australia, Dec 11: Recalled batsman Phil Hughes says he's confident after returning to the Australian cricket team for the series against Sri Lanka and his third stab at a settled test career.
Hughes, who is set to play in the first test at Hobart from Friday as a replacement for Ricky Ponting, has been prolific in Australia's domestic competitions this season.
He scored 74 from 48 balls in a Twenty20 match Sunday and is averaging 51.8 in four-day matches and 80.75 in one-dayers.
Hughes made his test debut for Australia in 2009 and has three centuries from his 17 matches, the last of which was a year ago. The left-hander has twice previously been dropped for long periods, most recently after Australia lost a test to New Zealand at Hobart last year.
Hughes told a news conference on Tuesday there was some significance in making his test comeback on the same ground on which he played his last test for Australia.
"This is the ground where things probably didn't pan out perfectly on a personal note," Hughes said. "Twelve months down the track, I feel like I'm in a better place now."
Hughes said he had worked hard on his batting technique in the past year, especially ironing out the kinks that made him vulnerable to slip catches.
The 24-year-old's principal scoring shots had been the cut and cover drive, and an awkward tennis-style punch down the ground. He has now developed the pull shot to give him more scoring options through the leg side.
Hughes pulled out of Australia's Twenty20 Big Bash League last season to concentrate on his pursuit of technical improvement.
"I feel like I've done a lot of work," he said. "I knew I had to make sacrifices along the way and that was definitely one, to pull out of the Twenty20 comp last year to work on my technique and become a better player.
"Probably 70 to 80 percent of my scoring options were on the off side. I feel now I've got both sides of the field covered and that's something I had to go away and work on."