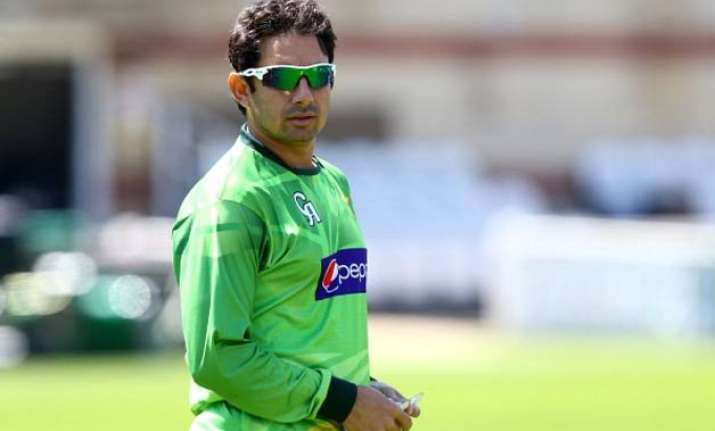 Karachi: The PCB has not appreciated comments made by star off-spinner Saeed Ajmal where he has promoted the names of Mohammad Hafeez and Azhar Ali to replace Misbah-ul-Haq as captain of the one-day squad.
Misbah, who had already announced his retirement from ODIs after the showpiece event, bowed out after a fighting 34 against Australia as Pakistan exited the tournament with a 6-wicket loss at the Adelaide Oval.
Ajmal appearing on a local television channel as expert minced no words in stating that he would appoint either Hafeez or Azhar as the next captain.
"Hafeez and Azhar are the best choices to take over as captain," said Ajmal.
Asked about the credentials of Younis Khan, Ajmal said that in the first place Younis was finding it difficult to hold his place in the one-day squad as a player.
"I don't know what Younis has in mind. How much more he wants to play but I don't think he is a potential candidate because his place in ODIs is not guaranteed so how can he be captain."
Ajmal also suggested that perhaps it was time for Younis to also say goodbye to ODI cricket.
The off-spinner who couldn't go to the World Cup because of a bowling action problem however conceded that his travel documents were being processed by the Pakistan Cricket Board for Australia for scenario of Pakistan qualifying for the semi-finals.
Ajmal also blasted the batsmen for their failure against Australia in the quarter finals and in the World Cup.
"I am angry because we batted without any plan against Australia and when will these players learn. If you don't have a good total how can the bowlers defend it.