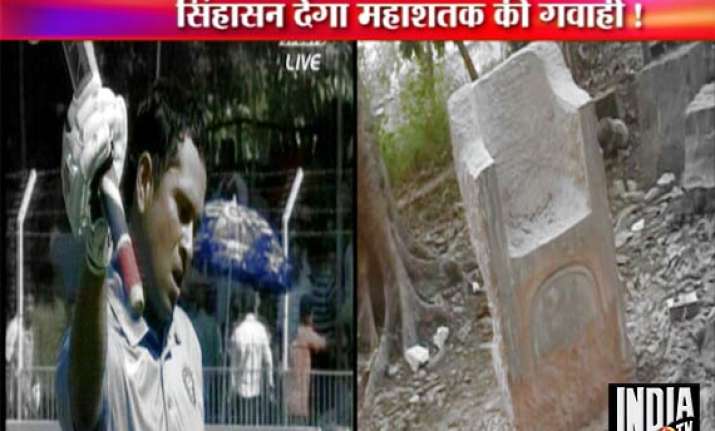 Patna, Dec 22: Indian batting maestro Sachin Tendulkar is one century short of creating history by becoming the first cricketer to score hundred hundreds.

One of his ardent fans, Chintu Kumar, 26 from Bihar is tirelessly engaged in chiseling a stone sculpture to gift the Master Blaster after he reaches the much-awaited milestone.

Chintu has named the throne as calls it 'Satako Ka Singhasan (throne of centuries). He had already gifted the Indian captain MS Dhoni a 250-kg stone replica of the World Cup after India won the ICC World Cup earlier this year.

Chintu feels Tendulkar's chance of scoring his elusive hundredth ton is high in the Boxing Day Test. He was quoted in TOI as saying, "I am praying that Sachin gets his much-awaited century of centuries soon. The chance of this happening in the first Test against Australia, which is scheduled to begin in Melbourne on December 26, is high.

"It is impossible for any cricketer to reach such a height in his career. Many have come and gone. It is only Sachin Tendulkar who can do this.

"I was disappointed when the 'God of Cricket' missed his 100th century in international cricket by a whisker at the Wankhede Stadium," Chintu said, adding confidently that the master "will make it this time".

Chintu's passion for Indian cricket is well known. His friends describe his madness and love for the game.