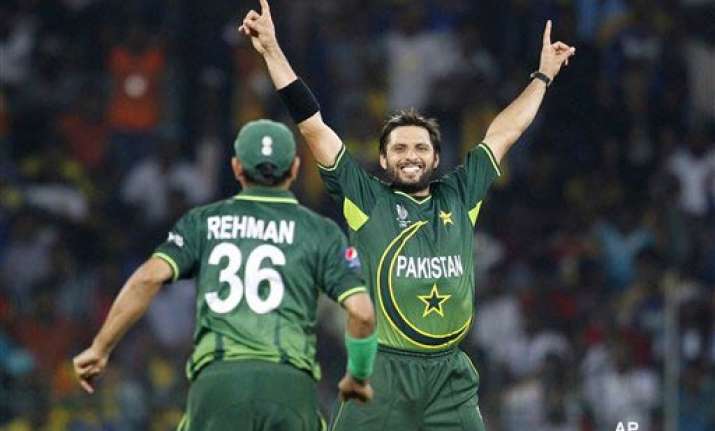 Colombo, Feb 26 : After snatching a thrilling 11-run victory over Sri Lanka, Pakistan skipper Shahid Afridi today warned the opposition teams to beware of them and said they would come harder with each game in the World Cup."It is a big win for us. The boys knew how big a game it was. Misbah-Ul-Haq and Younis Khan played a matured innings.
It was amazing the way we played," Afridi said after Pakistan restricted Sri Lanka to 266/9 after posting 277/7 in a Group A match."It is a great message for the other teams that we would keep coming harder and harder with each game," he added.
Afridi, who notched up his second consecutive four-wicket haul to run away with the Man of the Match award here, attributed his heroics to the good bowling conditions of the R Premadasa Stadium here."The conditions are beautiful here. The wicket was providing turn and bounce and it was same for the fast bowlers, so it is good bowling conditions," he said.
Asked about the lax fielding by the Pakistani players,who dropped catches, missed run outs, Afridi said the boys were a bit relaxed today on the field and hoped they come good in the next games."The fielders relaxed a bit, but on a stage like this we can't do that. I am sure they will improve in the coming games," he added.
Test captain Misbah-Ul-Haq, who scored a unbeaten 83,said toss played an important role."Toss is a very important factor in Sri Lanka because of the conditions here. The ball comes to bat in the first innings but batting is difficult in the second innings," he said."In the first innings, the conditions were good and it was just a matter of hanging in there and playing long innings.
"It is a very important win for us. Sri Lanka is a good side and playing them at home is always a difficult. So it is a good win," he added.Sri Lanka skipper Kumar Sangakkara blamed his batsmen for making the chase difficult and said the three wickets which fall quickly put them in the back foot.
"It (Chase) was not too difficult, we made it difficult by losing wickets. We were going pretty good. We bowled well on a flat deck. We needed to bat long but unfortunately Pakistan played very well. We lost three quick wickets at the wrong time," he said.
"They batted really well, they adjusted to the conditions. They got good start and kept picking singles and kept the momentum. We dragged it back to 270. We chased well in the beginning but we left to much for ourself to do in the end."There are quite a positive to be taken. We need to keep going. It is a long tournament and there are a lot of matches to be played," he said. PTI