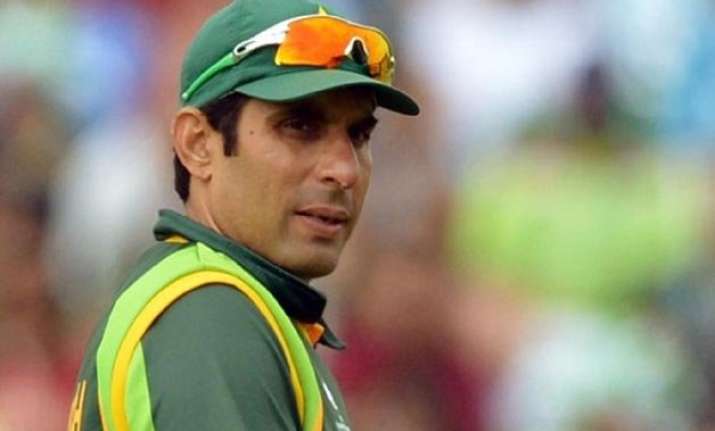 Islamabad: Pakistan test captain Misbah-ul-Haq has confirmed his retirement from limited-overs cricket on returning from the World Cup, where Pakistan lost in the quarterfinals.
"I have played my innings, and I should stay away from it (ODIs). It's a challenge for the cricket board to find a new (ODI) captain," the 41-year-old Misbah said on Tuesday.
"My one-day career is over, and now it's the responsibility of youngsters how they move Pakistan cricket forward."
Misbah informed the Pakistan Cricket Board before the World Cup that he would quit ODIs after the mega event in Australia and New Zealand, but remain available to play the longer format.
Pakistan is scheduled to play two tests, three ODIs, and a Twenty20 in Bangladesh next month, when Misbah is expected to lead only in the tests. Pakistan also has planned test series against Sri Lanka and India this year, and Misbah said he would decide on his test future after playing in these series.
In 162 ODIs, Misbah scored 5,122 runs at a healthy average of 43.40, with 42 half centuries but no centuries. His defensive captaincy and strike rate of 73.75 was often criticized by Pakistan's former players.
"I tried to put in my whole effort, and I am satisfied with it," Misbah said. "In future, whenever I am asked, I will give my input for the betterment of the team."
Misbah was the leading Pakistan scorer in the World Cup with 350 runs from seven matches, but the rest of the middle order disappointed. Pakistan could score only 300 runs once against a weak United Arab Emirates in pool play, and Sarfraz Ahmed was the lone century-maker in the tournament.
"As a batting unit, we are not yet matured and know how to play big innings," Misbah said. "We have problems in our batting ... maybe if they (batsmen) get more exposure of international cricket they get better."
Misbah was impressed by comments from former players Sikander Bakht, Shoaib Akhtar and Mohammad Yousuf, who called into question his team strategy.
"It hurts when senior players ... use such words that the whole world gets disappointed," Misbah said.
"It's (a poor performance) not because of one man. I wasn't in the team in 2007 and 2003. Somebody should ask them why the team made early exit in those two World Cups. They should give solutions (for Pakistan cricket), and should think before speaking on television."
Misbah advised the PCB that it should give some authority to the coach and captain when the team is finalized for international matches.
"At the moment, our policy is that the selection committee has the final authority," Misbah said.
"The captain gives his suggestion but he doesn't have the authority. Captain and coach should have authority in the selection committee."
Former captain Javed Miandad regarded this Pakistan team as the weakest ever selected for a World Cup, and criticized the selectors for not picking former captain Shoaib Malik, Azhar Ali, and Fawad Alam.