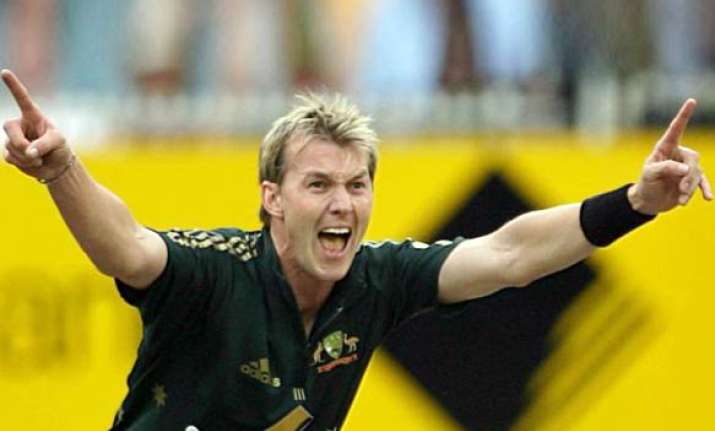 Ahmedabad, Feb 18: Returning after a 15-month lay off from cricket due to injury, Australian speedster Brett Lee today said that depending on pace attack on slow pitches of the sub-continent would not be a problem for his team during the ICC World Cup 2011.
"For pace bowling you got to get the ball in the right spot. I think that the way we bowled in the Champions Trophy, with lot of pace bowlers, we actually won that competition. Specially playing slow wickets like in Delhi, it tends to suit our pace attack," Lee told mediapersons here.
"I don't see any problem with the pace side which we have got and playing at the slow wickets. As at the end of the day the ball is still coming at 150 kmph through the air," the pacer who is excited to be back in the team, said.
Lee was commenting on Australian team depending on pace attack for the world cup in the sub continent where the pitches are slow and tend to favour the spinners.
"Pitch is massive part of the equation. But if you got bowler like Shaun Tate bowling around 160 kmph at the batsmen's toes, it does not matter where you are playing. The ball is still going to hit the batsmen on the full," he said.
He said that Australia was are trying to bowl in a team environment, where each bowler backs each other and with 3-4 spinners they had a very good bowling attack.
Lee said they had a great spinner in Jason Krejza, and there was David Hussey and vice captain Michael Clarke who could bowl spin.
"With Shaun Tait, Mitchell Johnson, Doug Bollinger and me we have a very strong pace attack," he added.
"I am sure with the depth of the players that we have got and their talent we are playing the right kind of cricket. We have to learn how to play spin and learn how to ball under these conditions," he said.
Lee said he got to learn a lot from the two warm-up games against India and South Africa.
"While playing against India and South Africa we learnt a lot. We have seen what they have got in attack, both pace and spin. Also in batting. Though Sachin did not bat well we have some plans for him too," he said, adding that he was happy with his performance during the practice matches.
The 34-year-old pacer with 335 ODI wickets had been out of play since past 15 months following an injury.
Talking about his injury Lee said that it was a difficult time for him to get back.
"It has been a long road back. Its been 15 months away from the game. Lot of players expect me to get back and play cricket. I am proud that I could survive the adversity to a certain extent, and get back to cricket," he said. PTI