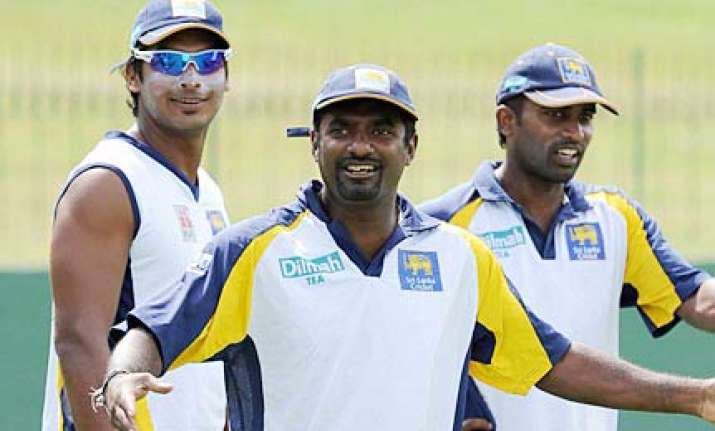 Melbourne: Australia was never a happy hunting ground for Muttiah Muralitharan and the champion Sri Lankan spinner's initial run-ins with umpires and fans had a big role to play in his under-achievement Down Under, feels former Australia coach John Buchanan.
Muralitharan brought down curtains on his five-day career last month in a blaze of glory by becoming the first cricketer to scalp 800 wickets in Tests.
However, he has always been an underachiever against Australia, claiming just 59 wickets in 13 Tests. In comparison, he took 112 wickets in 16 Tests against England, 104 wickets in 15 Tests against South Africa and 105 wickets in 22 Tests against India.
"Australia for any spinner can be an unforgiving location as the wickets are reasonably true for four of the five days of Test matches, " Buchanan was quoted as saying by The Daily Telegraph.
"Murali's early encounter with Australian umpires and crowds were very critical of his action. As a consequence, he may never have felt totally comfortable touring Australia," he said.
"Australia did not play Murali too much on his home soil. The 2004 series which Australia won 3-0 was a triumph for the team's batting group which spent a lot of time analysing and devising strategies to play Murali so that he could not dominate the batting lineup," added Buchanan, who has been roped in by England as a consultant ahead of this year's Ashes.
But the former Australian coach said Muralithran deserves every bit of accolade for his achievements.
"Very few players in any sport can depart their sport with the fairytale ending. Murali has done so and richly deserves such a farewell.
"The game will sadly miss this little character. He like Shane Warne brought colour, energy, special skills and the magic and mystery of spin to all parts of the game. He was a very affable fellow who was a great competitor, but was a very generous person to those he played with and against," Buchanan said.