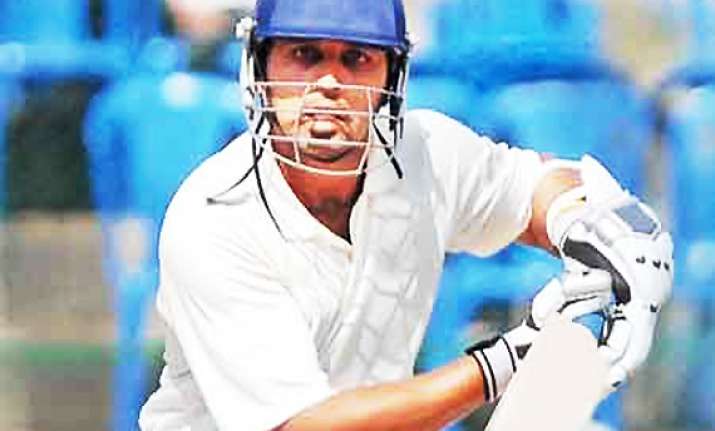 Mumbai, Jan 12: Tamil Nadu wrapped up the Mumbai tailenders on Thursday to take a vital first innings lead of 202 in the Ranji Trophy semifinal at Wankhede Stadium here, reports The Hindu.

All the three seamers, L. Balaji, Yomahesh and J. Kaushik , got into the wicket-taking act and dismissed the home team for a meagre 157.

Mumbai team was shot out in a little over four hours in 51 overs.

As expected Tamil Nadu did not enforce the follow-on; instead it batted again and Murali Vijay scored an unbeaten century.

The right-hander who went through a poor run in the early part of the league, struck three half-centuries leading to the contest here and fell short of the half-century mark by three runs in the first innings.

But on the third day when his side had virtually sewn up the match, he spent considerable time and notched up his ninth first class century and eighth for his State in the tournament.

Getting a second opportunity to bat almost an hour before the lunch break, Abhinav Mukund and Vijay raised 90 for the first wicket before the former was dismissed.
The visitor had lost three more wickets for a total of 220 and at close was 422 runs ahead with Vijay on an unbeaten 103 (210b, 15x4, 1x6).

The scores:

Tamil Nadu — Ist innings: 359.

Mumbai — Ist innings: K. Pawar c Karthik b Balaji 1, O. Gurav c Vijay b Balaji 2, A. Nayar c Vasudevadas b Srinivas 17, W. Jaffer lbw b Balaji 0, S. Yadav c Karthik b Yomahesh 52, H. Shah c Karthik b Yomahesh 21, A. Chavan c Vijay b Kaushik 10, D. Kulkarni c Balaji b Yomahesh 7, R. Powar b Balaji 4, B.S. Sandhu (jr) (not out) 18, K. Waingankar c Srinivas b Kaushik 6, Extras (b-2, lb-7, nb-7, w-3): 19; Total (in 51 overs): 157.

Fall of wickets: 1-8, 2-14, 3-14, 4-61, 5-83, 6-98, 7-124, 8-129, 9-142.

Tamil Nadu bowling: Balaji 15-4-28-4, Kaushik 11-2-34-2, Yomahesh 16-4-63-3, Srinivas 8-2-18-1, Gupta 1-0-5-0.

Tamil Nadu — 2nd innings: A. Mukund b Waingankar 42, M. Vijay (batting) 103, S. Badrinath b Chavan 23, D. Karthik b Sandhu (jr) 4, K. Vasudevadas c Yadav b Waingankar 36, R. Prasanna (batting) 1, Extras (b-1, lb-5, nb-2, w-3): 11; Total (for four wkts. in 70 overs): 220.

Fall of wickets: 1-90, 2-129, 3-134, 4-219.

Mumbai bowling: Kulkarni 7-3-24-0, Sandhu (jr) 18-4-53-1, Waingankar 15-4-43-2, Nayar 2-0-14-0, Powar 7-2-17-0, Chavan 20-4-63-1, Yadav 1-1-0-0.