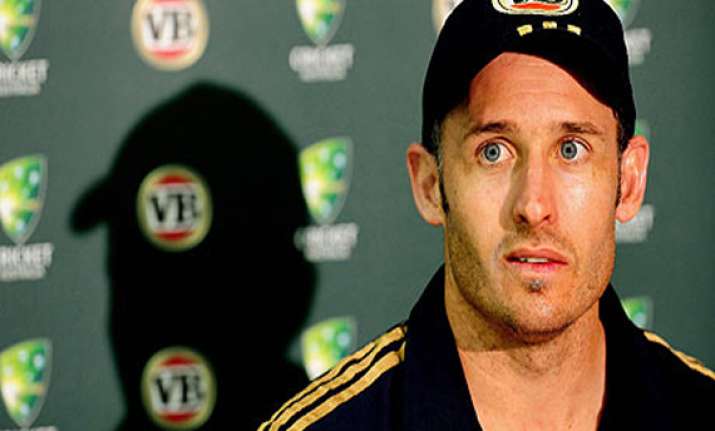 Sydney, Dec 29:  Australian middle-order batsman Mike Hussey today announced that he will retire from Test cricket after the final match of the series against Sri Lanka at Sydney starting on January 3.
Sydney game will be the 79th and final Test in 37-year-old Hussey's career having made his debut at 30. He will however play the ODI tri-series involving Australia, West Indies and Sri Lanka which will be his last international assignment.
Known as 'Mr Cricket' for his consistency, Hussey has till now has played 78 Tests scoring 6183 runs including 19 centuries and 29 half centuries at an impressive average of 51.52. He also has a fantastic ODI record having scored 5442 runs in 185 ODIs with three hundreds and 39 half-centuries at an average of 48.15. He was a member of the victorious 2007 ICC World Cup squad. He also played 38 T20 Internationals.
Australian coach Mickey Arthur expressed his shock at Hussey's decision.
"Was shocked when Huss told me of his decision-he will retire a champion," tweeted Arthur.
The Cricket Australia released a statement on his behalf.
"Australia's 393rd Test Cap, Hussey will play his 79th and final Test in Sydney but noted he will play out the remainder of the 2012-13 Australian summer, as well as be available for the WA Warriors and Perth Scorchers. He will review his availability for the Warriors and Scorchers at the end of the 2012-13 season," the release stated.
CA Chairman Wally Edwards said he had followed Hussey's career with admiration at Wanneroo, Western Australia and, after 10 years of fine state cricket, as an Australian player.
"Michael has had a fine career - he has been a great player, a great team player and has always been a great person, on and off the field," Edwards said.
"To debut as a Test cricketer at 30 and to go on and achieve what he has done has been absolutely terrific."