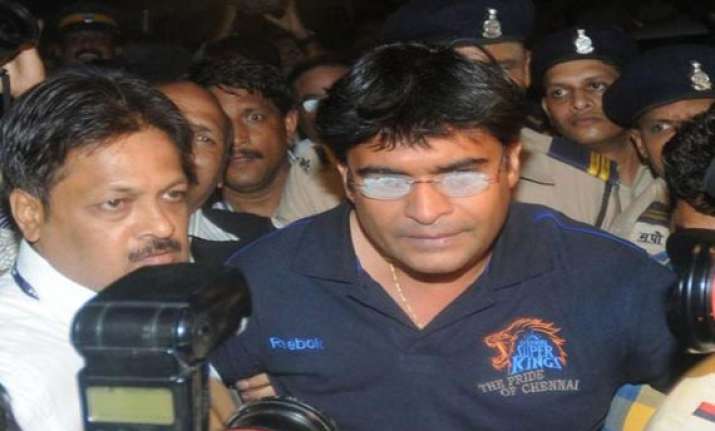 Mumbai, May 29: A Mumbai court on Wednesday extended the police custody of Srinivasan's son-in-law Gurunath Meiyappan till May 31 after it was told by the city crime branch that it wanted to confront him and actor Vindoo Randhawa, arrested in IPL betting scandal, with a Chennai hotelier, also suspected of involvement in the case.
Vikram Agarwal, owner of Chennai's hotel Radisson Blu, has been issued summons by Mumbai crime branch to appear before it on May 31.
In its remand application, the crime branch said it had already confronted 35-year-old Meiyappan with Vindoo, through whom the he was alleged to have placed bets on IPL matches, including those involving his team.
Mr. Meiyappan is accused of giving insider information to Vindoo regarding team strategy and players which he passed on to bookies.
The remand application said Mr. Meiyappan and Mr. Vindoo, son of late wrestler-actor Dara Singh, used to speak in "coded language" during telephonic conversations to exchange information, including those related to players, which could be used for placing bets. "These codes need to be deciphered," it said.
It also said one of the phones that Mr Meiyappan used for establishing contact with Mr Vindoo and bookies was in the name of his employee Kamalnath. "This issue has to be probed further," the remand application said.
Defence lawyer Harshad Ponda contested the grounds cited for seeking extension of Meiyappan's police remand, saying, "Not even a bailable offence is made out against my client.
The investigation can proceed further even when he (Meiyappan) is out."
Additional Metropolitan Magistrate A M Padwad, however, rejected Mr Ponda's arguments and extended Mr Meiyappan's remand saying, "There has been progress in the investigation. Further interrogation is required so that the investigating agency has a fair chance and complete opportunity to collect material and evidence."
Mr Meiyappan was arrested on Friday midnight for his alleged involvement in betting on IPL matches, raising questions over the future of the Chennai franchise and plunging Indian cricket into a crisis as cries grew louder by the day for Mr Srinivasan's exit as BCCI president on moral grounds.