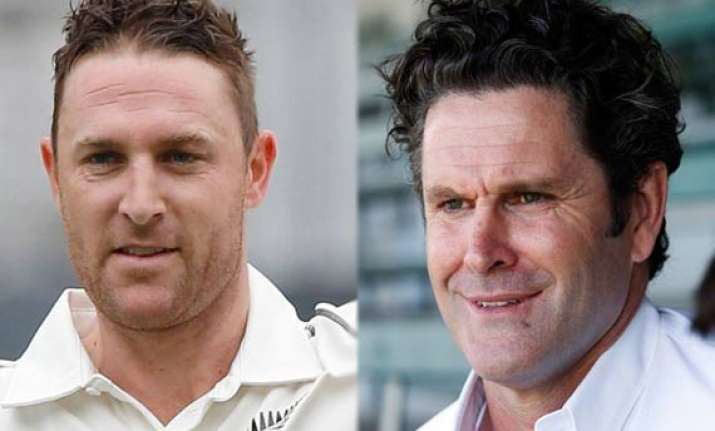 WELLINGTON, New Zealand: New Zealand cricket captain Brendon McCullum said Saturday he will testify against former teammate Chris Cairns in a perjury trial in London next year because he feels a duty "to protect the game."
McCullum will be among as many as 12 leading cricketers who may be called to give evidence when the trial starts next October.
Cairns won 90,000 pounds (then $140,000) in damages in 2012 after he sued Indian Premier League founder Lalit Modi over an accusation of match-fixing. He was later charged with one count of perjury in the case.
In a radio interview, McCullum said he was disappointed to be further drawn into the case, but he would agree to testify given his obligations as an international cricketer.
"I guess it's not ideal at all but you've got to protect the game," he said.
McCullum is expected to be questioned about evidence he gave to anti-corruption investigators that was later leaked to British newspapers. In the testimony, McCullum alleged he was approached by Cairns on at least two occasions and encouraged to become involved in match-fixing.
McCullum said he was deeply disappointed the evidence he had given to investigators had become public.
"The media have almost made me feel like I'm the one on trial which doesn't seem quite right," he said.
"But I would still do it again because I know that's the obligation you have as an international cricketer," he added. "You have to stamp out corruption and that's ultimately led me to making my statement to the ICC (International Cricket Council) and the anti-corruption unit."
Cairns told New Zealand's Fairfax Media last month that the trial will give him "an opportunity to face my accusers in an open forum ... so that I can clear my name once and for all."
The 44-year-old Cairns is regarded as one of the finest cricketers New Zealand has produced. He followed his father, Lance, into the New Zealand team, and in 62 tests scored 3,320 runs with five centuries at an average of 33.5 and took 218 wickets at 29.4.
He played 215 one-day internationals, scoring 4,950 runs and taking 201 wickets.