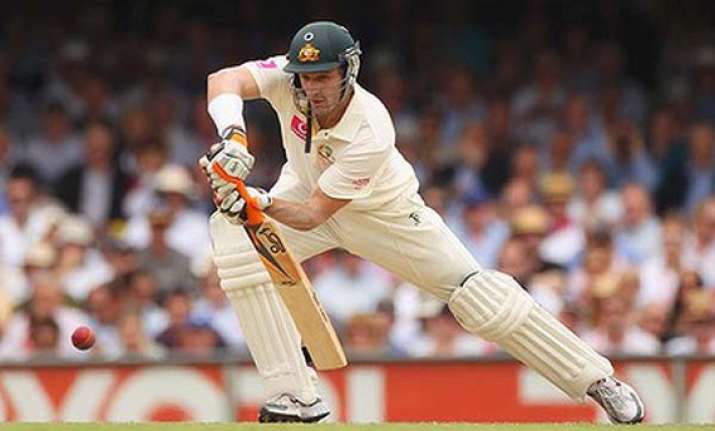 Adelaide, Jan 22 : The Indian cricket team is drawing criticism for what is being described as lack of intensity in training but it found unlikely support in Australian batsman Mike Hussey, who said the visitors are experienced enough to do well without long net sessions.

Australia lead the ongoing four-Test series 3-0 and the Indians have been roundly criticised by former players such as Sunil Gavaskar for not being intense enough in their training sessions.
Even though Australia's practice sessions have been noticeably intense, Hussey didn't think that the Indians were lacking in any measure.

"Indian players are so experienced, they know their games so well, they know what they need to be ready. I don't feel laying down a few markers necessarily means (preparing better). It comes down to an individual (how they could) give off his best," Hussey said.

It's apparent each Australian bowler has bowled with extra zip in the nets. Hussey said it's not just the bowlers, it's the way Australians have looked to train under new coach Mickey Arthur.
"I don't know if that's the motivation. Since Mickey Arthur has taken over, there is a bit of a goal to raise the bar in training standards. The intensity, throughout this summer, has been very high.

"Whether fighting for last place or not, I expect all guys to maintain intensity."

Hussey, meanwhile, is completely enamoured with Sachin Tendulkar in the present series and feels it's "inevitable" he would get his 100th century in due course.

"He has played brilliantly. Watching him closely, his footwork, the time he has and the straight bat, both off the front and backfoot, he's playing really well. If he continues it's inevitable," said Hussey as he shaped up for the final Test at Adelaide, beginning here on Tuesday.

"That's the way batting goes. Sometimes you are playing well but one ball, one mistake and you are back to the pavilion. I am sure to his own mind he is batting well, his bat is as broad as ever at the moment," Hussey added.

Tendulkar hasn't got his desired 100th century from the first three Tests of the summer and his wait has only got extended to 10 Tests and 19 innings so far. But Hussey has only admiration for the iconic cricketer as described him as "cricket god" in India.

"I don't know what he is going through mentally. I haven't scored 99 centuries though I would love to be in that position and feel the pressure. I have admired him how he's gone through his whole career. To score consistently at such a long period of time, deal with external pressures is amazing.

"He is a cricket God and yet how he handles himself in India, in a cricket-mad country, where just to walk on the street means being mobbed by thousands and thousands of people...to handle all this and put it aside and perform for India for over 20 years in international cricket is just amazing," he said.

"He must be such a strong person mentally. I hope he bats well but his 100th century comes in the next series, not this one."Another Indian cricketer for whom Hussey has a lot of praise is fast bowler Ishant Sharma who he feels has bowled without luck in this series.

"Ishant, if anything, has picked up little bit in pace from some spell I've faced from him in the past. He regularly touched 150 in a few of the spells in Melbourne. He bowled with real pace, at least early in the series but he bowled without luck.
"In the first two Tests, he beat the bat on numerous occasions. But the rub of the green didn't go his way. He has bowled well, may be 50-50 things haven't gone his way.Sometimes such things shape a series," he said.