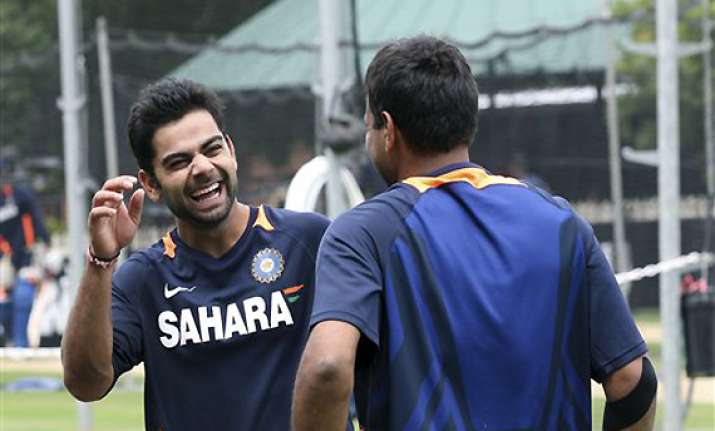 Dubai, Feb 4: Virat Kohli was the highest-placed batsman at third followed by Mahendra Singh Dhoni at fifth but there was no Indian in the bowling top-10 of the latest ICC one-day rankings issued on Saturday. 

Kohli, who showed good form in the Test series against Australia when he ended up as his side's leading run-getter with 300 runs, trails South Africa's ODI captain AB De Villiers (at second place) by 45 ratings points while Hashim Amla sits on top, another 26 rating points ahead.

Amla and de Villiers will feature in the three-match ODI series in New Zealand from February 25 to March 3.

The other batsmen in the India-Australia-Sri Lanka tri-series inside the top-10 include Kumar Sangakkara (seventh), Mike Hussey (eighth) and Michael Clarke (ninth).

And depending on how these batsmen perform in the series starting on Sunday, there could be changes in the top-half of the batting chart.

In the rankings for ODI bowlers, Sri Lanka's Lasith Malinga is the highest-ranked bowler in the series in 10th position.

Ravindra Jadeja and Brett Lee of Australia are the highest-ranked bowlers of their sides in 13th and 15th positions, respectively.

Meanwhile, shuffling of the pack could be on the cards in the team Championship table when three of the four top ranked sides go head to head in the three-nation tournament.

Incidentally, the tri-series format returns to Australia for the first time in four years, with the same three sides participating as in its last edition in 2008.

Number-one ranked and four-time former world champions Australia sit pretty on 130 ratings points, leading second-ranked current world champions India by 14 ratings points with fourth-ranked 1996 world champion Sri Lanka another five ratings points behind, the ICC said.

And as the rankings system is weighted to reflect this difference, Sri Lanka could earn significant number of points if it is successful in the series. In contrast, Australia and India can lose points if they don't win bulk of their matches.

If Australia beat India in the opener, they will earn one ratings point while India will drop one point. However, if the result is reversed, then Australia will lose two ratings points whereas India will gain one ratings point.

Similarly, if India lose to Australia and then to Sri Lanka, Australia will rise to 131 ratings points and Sri Lanka will move to 113 ratings points whereas India will slip to third position at 115 ratings points.

On the other hand, if India manage to win all their matches, they could go up on the table.

With a maximum of 15 matches to be played in the series with each side guaranteed at least eight matches, there will be regular changes on the table with the final shape emerging after March 8 when the series ends.