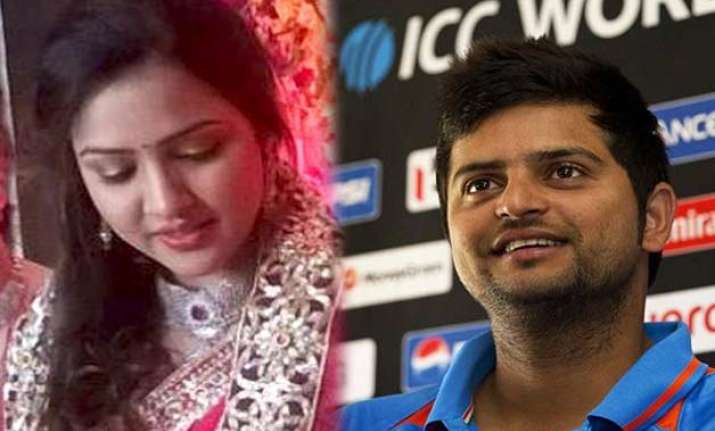 New Delhi: India's star batsman Suresh Raina's wedding stories are making headlines these days.
From the wedding date to the name of Raina's would- be spouse, every bit of information is generating huge curiosity among common man. It's no longer a secret  that Meerut's Priyanka Chowdhury will soon be Mrs. Suresh Raina.
The wedding will take place on April 3 at Hotel Leela Palace of Delhi. However, families of the couple want the high-profile wedding to be a private function.
Also read: Ahead of IPL, Suresh Raina to get married on April 3
Priyanka, in all likelihood, is likely to quit her job after marriage and will stay in India.
Priyanka Choudhary, a Meerut girl, is the daughter of a close friend of Raina's mother. Being a B-Tech graduate, she worked in Bengaluru for some time before going to the Netherlands where she is currently working.
Raina and his would-be bride were friends as kids, but with the girl's family moving to Punjab, the two lost touch. But a couple of years ago the families got in touch again and sparks flew between the two and soon, talks of marriage began between both the families.
However, it is not clear that it is a Love Marriage or arrange marriage.
Priyanka have two elder brothers, Abhishek Choudhary and Vivek Choudhary and both of them are working as a software engineer in Chennai and Noida respectively.
Her father Tejpal Singh works in an Ordnance Factory. Previously, he served as school teacher in Muradnagar while her mother is a housewife.
According to media reports, Raina's mother and Priyanka's mother are friends and both the families live in city of Muradnagar in Ghaziabad. Interestingly, their fathers were used to be colleagues in a private firm.
Priyanka Chaudhary and his family originally belongs to Baraut (Baghpat, UP). They lived in Muradnagar as well but her family shifted to Meerut. Suresh Raina is a Kashmiri Pandit and his family shifted to Ghaziabad around 1980.