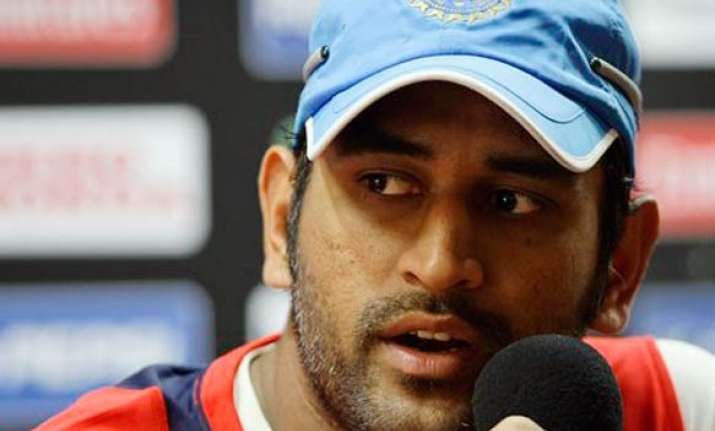 New Delhi, Mar 8: India have made a decent start to the tournament with signs of improvement in all departments of the game but peaking at the right time and maintaining consistency would be key to lifting the World for the second time in history, captain Mahendra Singh Dhoni said today.
With five points from three matches, India are on top of Group A but Dhoni warned that his side has a long way to go and what matters is the form in the knock-out stage.
"It has been a good and decent show so far. We have got a decent start in the tournament. We had two good wins, a tied game. Against Ireland we were under some pressure at a point of time but it happens with any international side. The batsmen did well to win that game," Dhoni said ahead of India's fourth league match against the Netherlands here tomorrow.
"The important thing is to peak at the right time and play our best game in the knock-out phase. In the quarterfinals, one bad match and then we are gone. There is no chance for a comeback. We cannot say that we had not played our best. It is one thing to be in good form and another to be in consistent form till the end of the tournament," he told reporters at the pre-match press conference.
He said the team can improve its batting while there have also been some positives in bowling.
"In fielding, we will not be able to have drastic improvement. So we can keep on improving in batting and get good starts. I don't mind who is taking wickets or scoring runs. To task one bowler or batsman to take wickets or score runs, it's difficult. But one thing is that there have been signs of improvement in bowling and we hope to peak at the right time.
"We have shown signs of improvement in all departments of the game in the three matches we have played, though we need to figure out ways to get set batsmen out," Dhoni said.
He indicated that the two-pacemen and two-spinner option would be continued in the matches to come.
"Most of the fast bowlers have struggled with injuries in recent times. Ashish Nehra has been out for long before coming back. Then Munaf had injury issues and also Zaheer Khan. I think it is difficult to take a fifth specialist bowler in the team. We are looking at 2X2 as the ideal option. We will find out before the knock-out stage starts," he said.
The Indian captain said the team management would want to use the other players who have not played so far to find out the best combination before the quarterfinals.
"We would like to give chance to all the players during the league stage to know what options we have. But at the same time we need to win all the games. So we are looking at giving chances to all the players including
Suresh Raina
, R Ashwin and Ashish Nehra," he said.
He said all the players are fit but virtually ruled out fielding Raina in tomorrow's game.
"Everyone is available for selection. We have no injury worries," he said.
"We want Yousuf to spend some time in the middle. It is difficult not to play Yuvraj. Then it would be either Sehwag, Virat or Gambhir to sit out but they would not want it at their home ground," he said when asked about chances of Raina playing tomorrow.
Asked about the plans for tomorrow's match, Dhoni said, "We are looking for an easy win tomorrow as we have two big games coming up. We want to pick the best eleven and win by a big margin. We will also see how the opposition plays."
Dhoni expressed happiness about the form of key middle order batsman Yuvraj Singh and said, "He is one player who can bat according to situation, aggressively or defensively. He is also doing a great job as a fifth bowler."
About the flexibility of the team in different match situations, Dhoni said, "Maybe Virat is the only batsmen who needs to bat at number three or four. Apart from that, Yuvraj, me or Yusuf Pathan can float around and bat according to the demand, by seeing what bowling options opposition has. Virat needs to bat up the order to perform to his potentials."
Asked if Ashwin will be played only against opponents who have many left-handed batsmen, "There are other factors as well. If our bowling does not click, he is an option. It's not that he bowls well only against left-handers. He's a very good bowler and have done really well for us. It's just a matter of time. We just want to pick the best players, especially the bowlers."
On the pressure of expectations of playing at home, he said, "We don't want to think much about the expectations. We want to make the most out of every game and win them. It is also about how to react to match situations. We have plans for every match but we have to change them and react on match situations.
"One area we are looking at is how to get set batsmen out how to pressurise him to play big shots."
On the use of the controversial UDRS by his side so far, Dhoni said in a lighter vein, "It's better to use UDRS since it is there rather than taking it to home or the dressing room. So we used it and we got a decision in our favour (against Ireland). We are hoping we get other favourable results in the coming matches." PTI