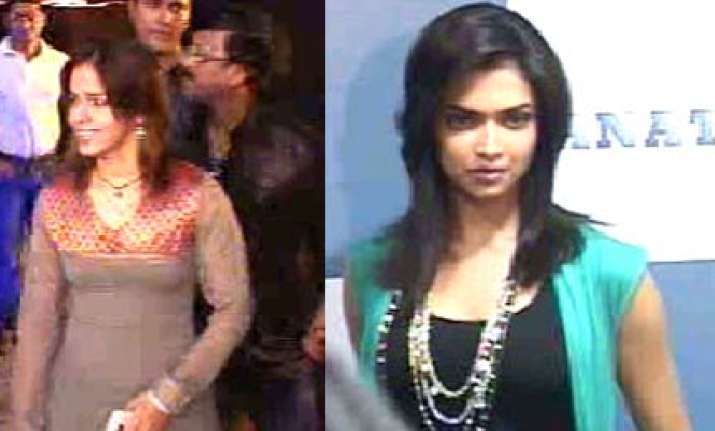 Bollywood star Deepika Padukone and badminton star Saina Nehwal were in Delhi on Sunday to launch a gym called Anatomy - Lifestyle Fitness in Hauz Khas.
Asked by reporters about her being a lucky mascot, as quoted by Vijay Mallya's son Siddharth, Deepika's reply was guarded. She said: "If I am being considered lucky for Royal Challengers Bangalore IPL team, that's unfair, because the credit goes to the players and their performance."  
Asked why Siddharth described her as RCB's  lucky mascot, Deepika said, 'It's not because of me being lucky that the RCB team is doing well, but, as I said earlier, the credit goes to the players of RCB team." 
Asked about Bollywood's fittest actors, her reply was : "I think the fittest male actor in Bollywood in Akshay Kumar and the fittest female actor is me." 
Deepika had this bit of advice to workout faddists: " Workout is essential and should be a part of everybody's life, however I prefer yoga to gym and do it on my own outside in the fresh air. I don't enjoy doing gyming. " 
Deepika said she had no plans to hit the TV screen like other Bollywood celbs.  
On fitness, Saina Nehwal's take was: " My fitness mantra is 8 hours of workout on and off the court...I am concentrating on the Commonwealth Games and I want to win a few more words to keep up my confidence level."