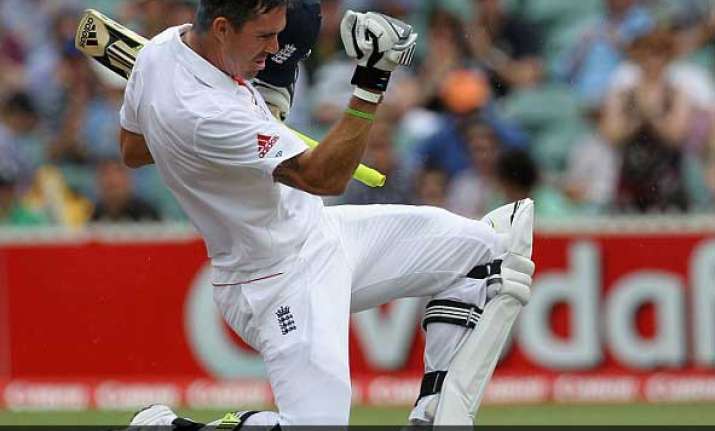 New Delhi: The age is catching up with  34 years old Kevin Pietersen so is the demand for him to be dropped from England squad particularly after they were humiliated in Ashes.
Shell shocked England Cricket Board is now in the mould of rebuilding the team but the big question is, is it worth having Kevin Pietersen for short-term benefits…?
One-day coach Ashley Giles will join captain Alastair Cook and new managing director Paul Downton on Tuesday for unprecedented talks over the fate of one supremely talented but very high-maintenance player.
The trio will decide whether the selectors, still including Andy Flower, can pick Pietersen for the one-day tour of West Indies this month and the World Twenty20 in Bangladesh that follows.
Only with Pietersen could it come to this, with three senior figures having to agree on whether — approaching 34 — he has at last become more trouble than he is worth.
Nothing seemed more certain in the aftermath of England's 5-0 Ashes thrashing that Pietersen's England days were numbered.
There were suggestions of poor behaviour towards the end of the series, with Pietersen considered to be a bad influence on the younger members of the England side, who will now become an integral part of the rebuilding process.
The Ashes humiliation seemed the perfect time for them to finally move on from Pietersen and start from scratch but the unexpected departure of Flower, after England's results went from awful to embarrassing to even worse, means that the picture has become clouded.
There is no doubt that England would have a better chance of succeeding in Bangladesh with Pietersen but Giles, Cook and Downton must decide whether that would just be placing sticking plaster over a gaping wound.
The decision appeared to be in Cook's hands a month ago — and that was not promising for Pietersen as their relationship is believed to have become strained towards the end of the Ashes, particularly during the final Test in Sydney.
But the captain is hardly in the strongest position himself now, having led England to a 4-1 one-day series defeat.