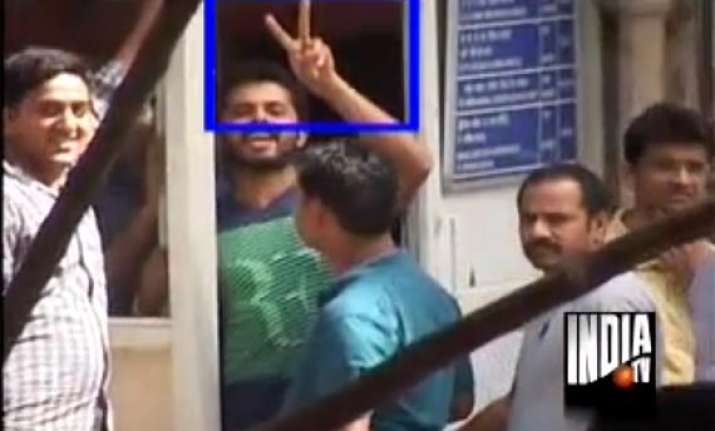 New Delhi, May 29: The tainted trio of Rajasthan Royals - S. Sreesanth, Ajit Chandila and Ankeet Chavan - were on Tuesday lodged inside the VIP cell of Tihar jail, where the likes of  A. Raja, Chandraswami, Sukhram, HKL Bhagat had been kept.
On Tuesday evening, the three bowlers of Rajasthan Royals had a dinner of rice, pulses and paneer in their cell, which measures double the size of a normal cell in Tihar jail.  This ward is named Super VIP ward of Jail No.1.
The cell has a western-style toilet at one end, and an exclusive kitchen at the other end, where the prisoners can cook their own food.
As news spread about the arrival of Sreesanth and the other two cricketers, the inmates flocked to see them.
Tihar jail officials are thinking up ways for allowing the bowlers to teach bowling to cricket-crazy inmates.
A round-the-clock cctv surveillance is done on this VIP ward.  The ward overlooks a green park and a small hut. TV sets have been provided in the ward.
On arrival, Sreesanth underwent medical tests.  Two undertrial prisoners each have been assigned to "help" the three cricketers.  Mosquito repellent spray was done inside the ward, and the prisoners were provided mattresses to sleep on the floor.
Tihar jail spokesperson Sunil Kumar denied that the cricketers were being given VIP treatment. He said, the three cricketers have been kept in Jail No 1  and the remaining bookies and fixers have been kept in Mulahija ward of Jail No.3.