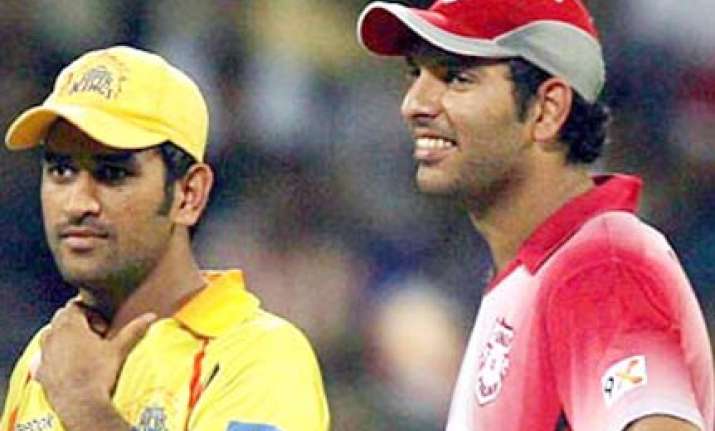 Injuries to key players, including skipper Mahendra Singh Dhoni, would be at the back of the senior national selectors' mind when they sit in Mumbai on Friday to pick the Indian squad for Twenty20 Cricket World Cup which begins next month in the West Indies.
Dhoni and opener Gautam Gambhir were injured during the early part of the ongoing Indian Premier League while Ashish Nehra, another important member, has not played any match in the IPL for Delhi Daredevils due to a rib cage problem.
In last June's Twenty20 World Cup in England, India's defence for the title they won with much fanfare in 2007 in South Africa was affected because of injuries to key players Virender Sehwag and Zaheer Khan.
The selectors would be wary of the injuries to the key players when they meet to prune down the preliminary list of 30 players to half for the April 30-May 16 tournament in the Caribbean.
The biggest worry could be the injury to left-arm pacer Nehra, whose last competitive tie was against South Africa in the second ODI at Gwalior on February 24.
Gambhir, who is recovering from a hamstring injury, and Nehra went to Sri Lanka for ayurvedic treatment there.
Dhoni, who was hit on his forearm by New Zealand pacer Shane Bond when leading Chennai Super Kings against Kolkata Knight Riders on March 16, has, however, rejoined his team members and declared himself fit.
Barring the odd surprise, the five selectors are unlikely to experiment too much with unknown commodities.
One of the players expected to get a look-in following his impressive show in 2008 IPL and current edition of the lucrative Twenty20 league is Karnataka's Manish Pandey, who has also been in peak form in this year's Ranji Trophy championship.
Pandey has made the wise move to move up the order and accompany veteran South African all-rounder Jacques Kallis in giving his franchise outfit Royal Challengers Bangalore sound starts in IPL III.
The inclusion of Pandey will give the Indian team the option to have another explosive player at the top of the order to take advantage of the first six overs of power play which sets the tone of the course of the innings.
Another player, who is under a cloud but not because of injury, is Rajasthan Royals all-rounder Ravindra Jadeja, an integral part of the Indian ODI squad. The IPL had imposed on him a one-year ban for breaching player guidelines. PTI