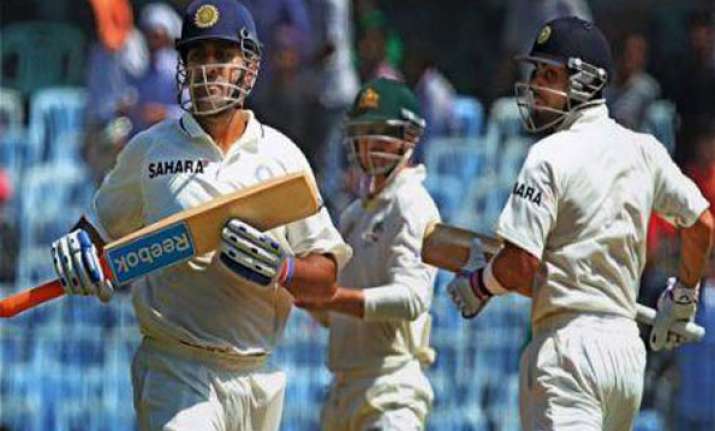 Chennai, Feb 24: After being hammered around the park today, Australian wicket-keeper Matthew Wade today said Indian batsmen showed them how to bat on such a pitch which is deteriorating fast but still has lot of runs in it.
India scored 333 runs on day three of the first Test with skipper Mahendra Singh Dhoni scoring a majestic double century and young
Virat Kohli
a patient century.
"Dhoni played brilliantly and it was unbelievable. Most of the younger players are in the sub-continent for the first time and we can learn a lot from the way the Indian batsmen played today.
It is a learning curve," Wade told reporters after day's play.
"If we can take anything about the day today the last part of the innings and the partnership, there are runs in the pitch. I know that for sure.
Of course the pitch will deteriorate and we expected it. We came here ten days before the Test and the pitch looked to be getting final finishes and we knew what is there for us," he added.
"Yes, it is breaking but they showed us as to how you play on such a wicket. If we can come and perhaps we play early tomorrow and play positive and try and get away absolutely we are still in the game."
Wade said their performance tomorrow will have bearing on the outcome of the series-opener.
"If there is anything for us in this Test, it is coming tomorrow and getting those two wickets.
If we take some quick wickets and bat on as long as we can, is important for us in the whole series. It is about how we back ourselves tomorrow as a team," he said.
Wade said they never though that they will have easy time in India and such a fight was anticipated by them.
"It is tough to play in the subcontinent. We were lucky to get Sachin wicket. MS played beautifully. I know we have some tough days. Hopefully we do not have more tough ones.
"Individually we got to be ready for the remaining two days, especially the bowlers. We are fully soaked on the series and we know it is tough."