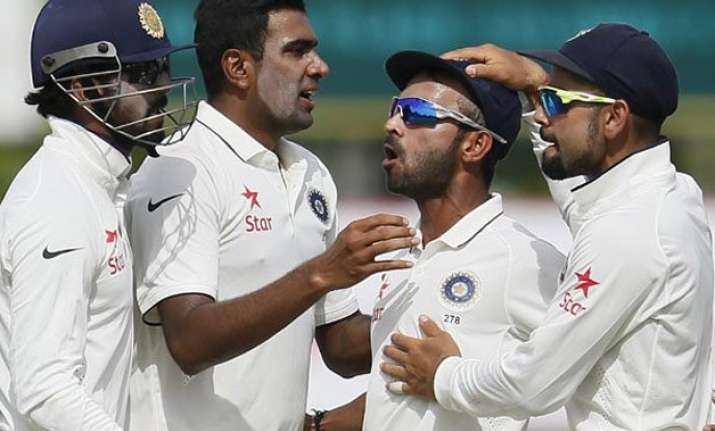 Colombo: In reply to India's first innings score of 393, Sri Lanka posted 224/3 at lunch on the third day of the second Test at the P Sara Oval here on Saturday.
Resuming their innings at the overnight 140/3, the hosts added 84 runs without losing a wicket as Lahiru Thirimanne (57) and skipper Angelo Mathews (72) stayed put at the crease.
The hosts are still 169 runs behind with seven wickets in hand.
Scoreboard at lunch on Day Three of the second Test between India and Sri Lanka at the P. Sara Oval here on Saturday:
India (first innings) 393
Sri Lanka (first innings) (overnight 140/3)
Dimuth Karunaratne lbw b Yadav 1
Kaushal Silva c Ashwin b Mishra 51
Kumar Sangakkara c Rahane b Ashwin 32
Lahiru Thirimanne not out 57
Angelo Mathews not out 72
Extras (b 2, lb 4 , nb 5) 11
Total (three wickets in 81 overs) 224
Fall of wickets: 1-1 (Karunaratne, 1.1 overs), 2-75 (Sangakkara), 3-114 (Silva, 43.4)
Bowling:
Ishant Sharma 14-2-38-0
Umesh Yadav 15-5-55-1
Stuart Binny 14-4-36-0
Ravichandran Ashwin 22-2-63-1
Amit Mishra 16-2-26-1