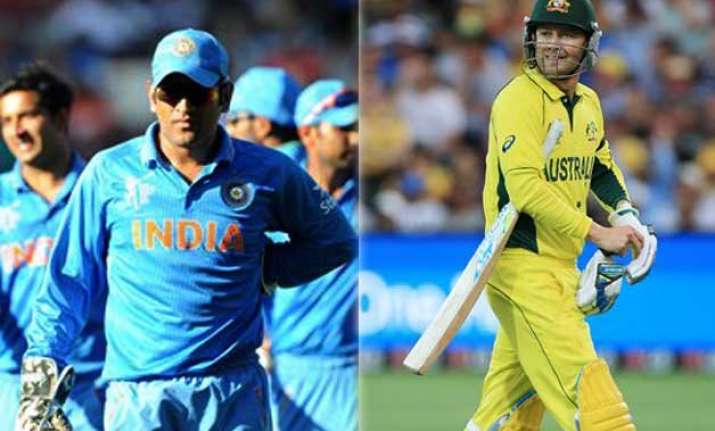 Sydney: The stage is set for an epic clash between India and Australia at the Sydney Cricket Ground for qualifying for the final of World Cup 2015 on March 26.
The semi final clash between the two teams is expected to be a high voltage encounter. History also shows that whenever both the teams had a face off emotions ran high both on the field and off the fieled as well. The two most powerful nations in contemporary cricket, are also the fiercest of rivals.
Let's take a look on the incidents when the players from either of the two teams had a word with each other
In modern times the most infamous clash was during the second match of their 2007-8 test series when India travelled Down Under,The game was  played at the Sydney Cricket Ground. India lost the match in the final moments of the last day, but that was only the start of the drama.
The Indians were furious that a number of key umpiring decisions had gone against them. Then their spinner Harbhajan Singh was charged with racially abusing Australia's Andrew Symonds in what became known as the 'Monkeygate' scandal.
More recently the Australia's opening batsman David Warner and the Indian pair of Virat Kohli and Shikhar Dhawan were all fined by the ICC after a row during the Test series and  Australian fast bowler Mitchell Starc was given a warning by the officials after his aggresive behaviour.
The battle continued even after the teams switched to One Day Internationals after the Test series, David Warner was once again  fined with another fine after telling Indian opener Rohit Sharma to "speak English".
The players on both teams have already been warned about their behaviour but have shown no signs of backing down with so much at stake. 
"It's the nature of the game, it's a semi-final, it's cut-throat, there's going to be words said. It's going to be a really tough contest and both teams won't be backing down," Australian all-rounder James Faulkner told a news conference before team training on Monday.