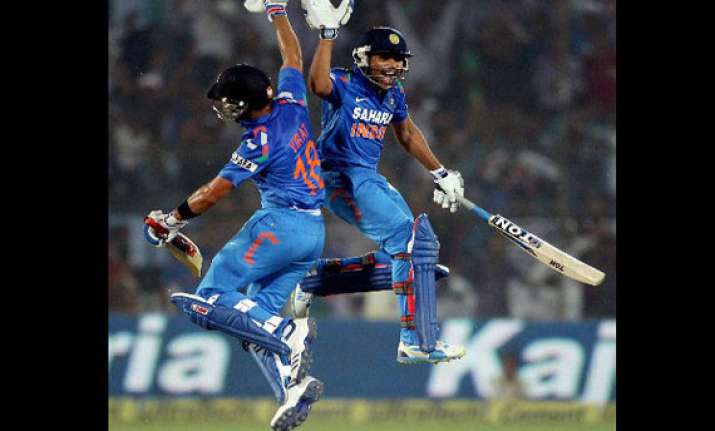 Mohali:  India would look to keep the momentum going  after a sensational performance at Jaipur when they take on a dumb founded  Australia in the
third cricket ODI here Saturday.     
India made a mockery of the mammoth total Australia posted by chasing it in less than 44 overs. It was a second highest run-chase in the history of limited overs cricket. Now the Indian team would not like to settle for anything less than an overwhelming win at the PCA Stadium tomorrow.     
For shell shocked George Bailey and co. sooner they get over the shock better it will be as this Indian side is now on rampage and won't give an inch to visitors to regain thier confidence.in the series.     
To chase a target of 360 inside 44 overs requires a Herculean effort, and the trio of
Shikhar Dhawan
,
Rohit Sharma
and
Virat Kohli
have now proved that no target in the world is safe when they come out all guns blazing at the opposition.     
Three immensely talented batsmen have completely different areas of strength but what binds the troika together is their ability to give it back to the opposition as good as they get.     
Dhawan's 95 in Jaipur was all about brute power and taking the opponents by the scruff of their neck. Rohit's 141 had the silken grace that has always been associated with this wristy Mumbaikar.     
Kohli's innings was all intimidation as he showed that why he is turning out to be one of the premier batsmen in limited overs format.     
His 52-ball-100 had everything. Skill, power, artistry all of which goes into the making of a brilliant cricketer.      
As rival skipper Bailey had aptly pointed out at the post-match press conference in Jaipur, the Indian batting's top seven is wonderful to have in ODI format.