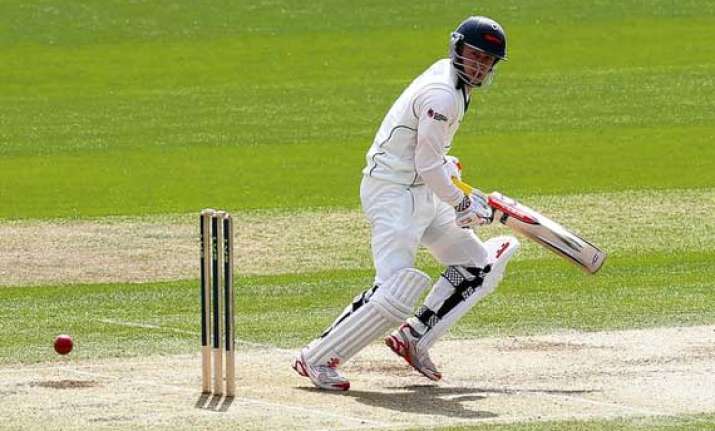 Leicester: Rain continued to play spoilsport here as India could only bowl 13 overs before lunch on the third and final day of their opening tour game against Leicestershire during which the hosts scored 71 for one.
Leicester openers Matthew Boyce and Angus Robson took guard today after the second day's play was washed off after the visitors declared the innings on 333 for four.
Sharing the new ball with Bhuvneshwar Kumar, Pankaj Singh took the only wicket to fall after scalping Boyce for 4 with Ajinkya Rahane pulling off a stunning one-hand catch at third slip.
Robson (45*, 42 balls, 10 fours) and Greg Smith (19*, 17 balls, 3 fours) were the unbeaten batsmen and they had put on 43 runs for the second wicket when play stopped.
Hoping to get some bowling practice, India's preparations seemed to be back on track on the third morning as the county ground at Grace Road dried up enough overnight.
Play began on time but medium-pacer Bhuvneshwar (0-46) struggled to pitch the ball on good length.
Good cloud cover and a stiff breeze made it conducive to swing bowling and Pankaj (1-22) at the other end made perfect use of the helpful conditions.
The Rajasthan bowler was on the money right away, bowling with a good rhythm and consistently troubling both the batsmen.
Singh bowled a six-over spell and Ishant Sharma was brought into the attack in his place, but he could only send down one delivery (a no-ball) before rain intervened once again.
Play didn't resume again until the stroke of lunch.
Earlier, on day one, India had won the toss and elected to bat first with the top and middle order getting some useful time at the crease.
Shikhar Dhawan (60), Gautam Gambhir (54) and Cheteshwar Pujara (57) had struck half-centuries, while Ajinkya Rahane (47*) and Rohit Sharma (43*) too spent valuable time in the middle and got a feel for the conditions.